While e-commerce isn't exactly a new phenomenon, it's still chock-full of opportunity. For those who are prepared and informed on how to 'do e-commerce right', there's little standing in their way of earning big profits.
Not so sure about that? Consider the fact that the growth rate for the e-commerce retail industry is projected to grow by roughly 19% by the end of 2020 with continued growth expected over the next years.
But what does it mean to 'do e-commerce right'? One crucial aspect of a successful e-commerce business is its ability to consistently bring in customers and make sales on a reliable basis. That's where e-commerce advertising comes in.
E-commerce advertising is the practice of marketing your e-commerce website to grow brand awareness and generate leads which then (ideally) convert to customers and sales.
With this definition in mind, the importance of developing a strong e-commerce advertising strategy should be obvious. Strong e-commerce ads work to keep a stream of new customers flowing into your online business and thereby increase your business profits. Just make sure you keep track of your profit and expenses – so you always know where you can save or better yet, optimize!
Simply put, the success of your online business largely depends on having a firm grasp on e-commerce advertising. But the term 'e-commerce ads' encompasses a wide variety of strategies – keep reading to find out which match best with your online business.
Types of e-commerce marketing
Social media marketing

Pay per click (PPC)

Search engine optimization (SEO)
Plus, with the ever-increasing array of audience-targeting tools and features offered by popular social networking sites, the task of generating new leads through e-commerce ads is that much easier through social media marketing
2. Local marketing – this e-commerce advertising strategy is actually most useful for e-businesses (learn the difference between e-commerce and e-business). That's because local marketing focuses on drawing in foot traffic from your surrounding geographic area.
Local marketing could include practices like creating special pages on your website for specific towns in your area, partnering with other local businesses for special offers or events, and so on.
3. Pay per click (PPC) – the idea of PPC is pretty straightforward: your business pays an online advertising network (such as Google) for each click your e-commerce ads receive. If you're unfamiliar, PPC ads show up in Google search results with a clear indicator that it is, indeed, an advertisement and not an 'organic' search result.
For tech-savvy online shoppers, yes, that 'ad' indication may persuade them to keep scrolling. But the fact is, the top three spots on page one of a Google search (which are advertisements) take more than of total clicks on that page.

5. Search engine optimization (SEO) – related to content marketing is SEO, which is the practice of improving your website's position in search engine results. That's done by researching keywords that people enter into search engines when they're looking for products or services like yours and using those keywords strategically throughout your content.
Don't waste your time guessing and stressing about which e-commerce platform to use for SEO. There are 5 best e-commerce platforms for SEO that you should take a look at first. Of course, do your due diligence before choosing one – there are many other factors that come into play besides just SEO.
6. Email marketing – one easy way to get started with this e-commerce advertising strategy is by developing newsletter campaigns. Newsletters can be a mix of content that your audience finds genuinely interesting and some more self-promotional bits.
By formatting your email marketing campaigns in a way that presents value for your audience, you can grow your reputation as a reliable source of relevant information. Plus, with the ability to schedule your email campaigns far in advance, you can save tons of time and keep your audience engaged on a regular basis so they'll start anticipating the arrival of your emails!
7. Affiliate marketing – while affiliate marketing doesn't necessarily entail what you would call 'e-commerce ads', it still qualifies as a form of e-commerce advertising. The basic concept is to have an external website sell the goods or services offered by your e-commerce business and to pay them a commission for each sale they make.
A fundamental part of affiliate marketing is providing your affiliates with an affiliate link which will allow you to track the sales generated by each of your affiliates. That data can help you determine which affiliates may deserve a bump in commissions, which need a nudge in the right direction, and so on.
This type of e-commerce advertising is far less 'intrusive' than your typical e-commerce ads and can often be delivered to the audience as a friendly recommendation almost like word of mouth advertising. Naturally, influencer marketing is one of the most interesting, fun, and quickly-growing e-commerce advertising strategies. In fact, last year roughly two-thirds of marketers said they were planning on increasing their influencer marketing budgets. Hop on it!
You can use these e-commerce advertising strategies to grow your business both in terms of brand awareness as well as volume of sales. Curious how to get started with building a successful e-commerce ads strategy? Good, because that's what we cover next!

How to build a successful e-commerce advertising strategy
Step-by-step guide for building an e-commerce advertising strategy:
Define your target audience

Select the appropriate marketing strategy

Determine your budget and ROI goals

Optimize your website
1. Define your target audience
Selecting the right target audience is a fundamental part of any/every e-commerce advertising strategy. Your goods or services will be particularly relevant for certain groups of customers and less relevant for others. For example, if you're selling baby supplies your preferred target audience could be females between 24 and 36 years of age. That would make much more sense than aiming your e-commerce ads for baby supplies at males between 45 and 60 years of age.
2. Select the appropriate marketing strategy
Related to picking the right audience is choosing the right strategy to market to that audience; not all audiences will react the same way to certain types of marketing strategies.
3. Determine your budget and ROI goals
The portion of your budget that you'll invest in any given type of e-commerce advertising strategy will differ depending on a number of factors. That said, here are some general guidelines on what you can expect to spend and earn on the e-commerce ads strategies mentioned above:
Unpaid Advertising (SEO):

Will cost roughly 10-24% of your e-commerce advertising budget. The

average ROI for e-commerce SEO

is approximately 175%.

Paid Advertising (All others combined):

Will cost roughly 39-81% of your e-commerce advertising budget. The

average ROI on influencer marketing for e-commerce

, for one, is approximately 478%. On the other hand, for email marketing, the average ROI is around
Shopify sellers deal with heaps of data on a regular basis, which can make it particularly difficult to accurately monitor expenses and profits. Luckily, there's a profit margin calculator that eliminates the confusion.

All of that complex data is then presented easy-to-digest dashboard that gives a full breakdown of all expenses including marketing, shipping, production, and more.

Try BeProfit, the ultimate Shopify calculator, here.
4. Optimize your website
We'll keep this one short:
Make sure that your site is mobile-friendly.

Keep things simple. The more time people need to spend filling forms and clicking around the worse. Make it easy to buy from you!

merchant service provider

that offers several payment options for your customers.
With these four key steps covered, and the 8 e-commerce advertising strategies listed above, you're well on your way to being an e-commerce ads champ!
Note: Typically, e-commerce advertising costs won't put too much pressure on your budget. But if there are specific e-commerce advertising strategies that you'd like to try and your budget is currently fit to cover those costs, consider as a way to give your e-commerce ads a new flavor!
Ready, set, advertise

Disclaimer: The information contained in this article is provided for informational purposes only, should not be construed as legal advice on any subject matter and should not be relied upon as such. The author accepts no responsibility for any consequences whatsoever arising from the use of such information.
There is no getting around the fact that "If you build it, they will buy it" is a myth. Building something is just the beginning, much to the chagrin of creators everywhere; you then need to advertise it so that your target clients are aware of its existence.
E-commerce advertising is one of the best strategies if you sell items online.
To raise brand recognition and advertise e-commerce goods, sponsored messages are sent through many publications called e-commerce advertising.
Advertisers have access to both physical and internet publishers to deliver their ads. However, we will solely discuss internet advertising strategies in this post. We will now examine digital advertising platforms like Google and social media.
E-commerce advertising, which is the overall activity of promoting an online business to raise brand awareness, create leads, and improve sales, includes e-commerce advertising. E-commerce marketing includes digital techniques like search engine optimisation (SEO), which concentrates on generating organic visitors.
When delivering advertisements to publications, you pay for impressions and clicks with e-commerce advertising. So, for instance, when your eCommerce advertising shows on YouTube videos, you will pay Google for the impressions or views they receive. Meanwhile, pay-per-click models are used by social media sites like Facebook and Instagram. The publisher will charge you for each click your social media advertising receives.
Different types of E-commerce Advertising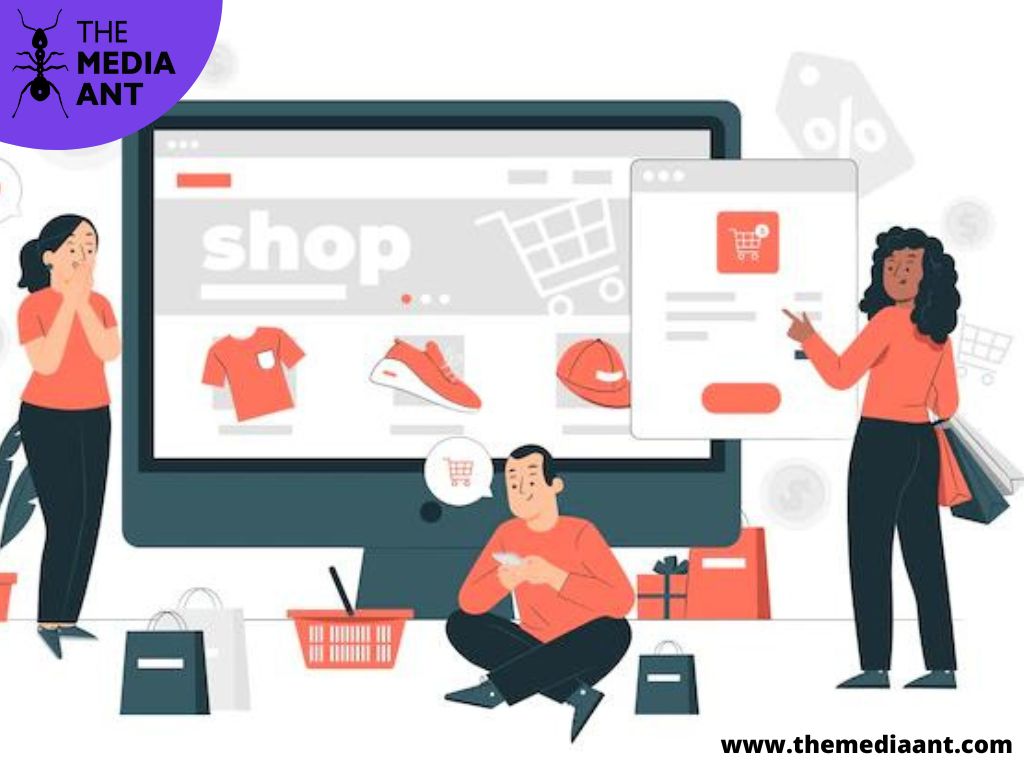 The different types of e-commerce advertising are:
Display Advertising
Online paid advertising, known as "display advertising," often consists of text and visuals. Banners, landing pages, and popups are the three most frequently used display ad formats. Due to their absence from search results, display advertising varies from other types of advertisements.
Display advertising is most frequently featured on websites and blogs to draw users' attention to the company's goods. Display advertisements are effective when used in conjunction with remarketing. Website visitors retargeted with display advertisements are 70% more likely to convert on your website, claims Digital Information Word.
Unfortunately, these expenditures could be more sustainable for e-commerce enterprises because of a high CPM and poor CTR. Although many marketers still rely on display advertisements to raise brand awareness, businesses have strategically adopted a marketing strategy that relies on their own marketing channels, or the channels that are under their control, such as your website, email, and mobile marketing, to improve customer experience, reduce costs, and communicate with customers more effectively and on their terms.
Start with a low budget for display advertisements and keep testing and optimizing to ensure your ads reach the proper people.
2. Search Engine Marketing & Optimization (SEM & SEO)
SEM and SEO are two forms of internet marketing that support content and improve search visibility.
SEM: Advertising pays each time a person clicks on an ad to go to a website, rather than for the cost of the actual ad. Gaining detailed information about their market is advantageous to businesses.
SEO: In order to appear higher in search engine results, marketers employ a variety of SEO strategies, including linking, focusing on specific keywords and meta descriptions, and producing high-quality content that attracts links from other websites. SEM is a sponsored tactic, but SEO is organic, making it a highly sought-after kind of online advertising.
3. Social media
There is no denying that social media advertising continues to grow every year.
Organic, online word-of-mouth marketing, and paid are the two categories of online social media advertising. Paid advertisements, promoted posts, and sponsored articles are popular ways to expand a company's demography without spending a fortune, according to the graph below.
However, as with display advertisements, marketers need help to expand their e-commerce businesses due to the escalating expense of social media advertising. The cost of these channels has increased by 90% annually.
While social media advertising is likely required for companies to expand their consumer bases and attract new clients, you must be strategic with your spending and find ways to offset the expenses by maximizing your marketing channels. You may improve the accuracy of your social targeting and boost the return on investment of paid advertising by integrating your custom lists to develop lookalike groups.
4. Email Marketing
An email will remain in the inbox until viewed, removed, or archived, making it one of the companies' most widely used marketing tools.
Email marketing can establish a connection with your audience and increase traffic to your blog, social media accounts, and other websites you want people to explore. To ensure that people are only receiving the communications they want to see, you can even divide your emails and target users based on demographics.
By using email marketing tools that can be set to send out emails quickly, you can also use email marketing to conduct A/B tests on a subject line or call to action to determine the best-performing message.
5. Native Advertising
Have you ever seen sponsored adverts at the bottom of Facebook or blog posts? Users can click on suggested samples labeled "other recommended reads" or "other people enjoyed." This is native marketing.
6. Pay Per Click (PPC)
Pay-per-click (PPC) advertising' namesake clearly explains their goal. The power of PPC as a tool is enhanced by the fact that marketers only pay for these adverts when users click on them. The cost of the advertisement depends only on the one who clicked if 100 people saw it, but only one did. PPC advertisements typically contain text and, if any, a tiny graphic.
7. Remarketing
Remarketing (also known as retargeting) is a form of internet advertising that delivers on its promises. The user is practically followed throughout the internet by this cookie-based technology to remarket to them. After the viewer leaves the page without checking the website, these individuals are targeted by viewing subliminal cues (ads) that remind them of their prior interests.
Making the adverts as relevant as possible is the most crucial component of retargeting (and any effective advertising plan). Avoid using a one-size-fits-all strategy when retargeting since you'll squander a sizable portion of your spending.
8. Video ads
Particularly among the younger generation of customers, video advertisements are becoming more and more common.
As the most popular video platform, YouTube has implemented video advertising tactics for its viewers. Businesses that use the PPC strategy only pay when customers interact with their ads. Due to targeting, analytics, and customisation, companies have flocked to the video ad genre.
9. Programmatic advertising
This trend is being heralded as the future of ad purchasing and is rapidly gaining ground. The decision-making process for purchasing adverts may be automated with programmatic advertising.
Programmatic advertising aims to eradicate the frequent human mistakes in ads, making the entire ad purchasing process effective. It does the former by concentrating on specific demographics and audiences.
Major e-commerce firms will undoubtedly adopt the automated ad-buying method once that obstacle clears. Advertising trends can be short-, intermediate-, or long-term, as is noted below. This is undoubtedly the latter.
10. Mobile Advertising
Mobile advertising has become obsolete, given how strongly e-commerce businesses rely on mobile customers and how quickly the consumer base is expanding.
Since the invention of smartphones, mobile commercials have been a staple of the digital marketing sector.
Most of all traffic to Indian e-commerce websites comes from mobile devices. This focuses on the idea that mobile advertising will stay a popular trend in the business.
Be careful; there are efficient tactics that can quickly deplete your advertising budget, leaving you with something to show for your marketing efforts. However, for many firms, the benefits exceed the drawbacks.
E-commerce Advertising Platforms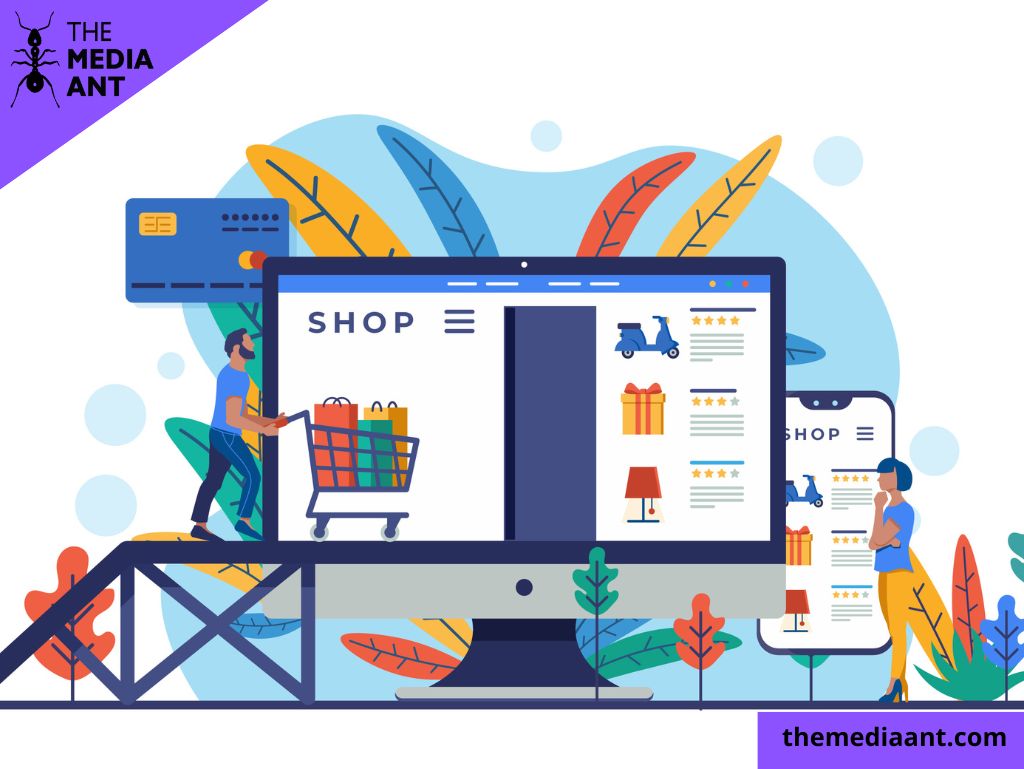 Below are a few ecommerce advertising platforms:
Google Ads
Google Shopping
Bing Ads
Facebook Ads
Instagram Ads
YouTube Ads
Twitter Ads
Pinterest
Tik Tok Ads
Snapchat Ads
LinkedIn Ads
Amazon Ads
How to advertise your e-commerce website
Any e-commerce website may advertise its platform or services by using these techniques:
Make use of social media
Lead lively discussions with consumers online
Use Pay-Per-Click marketing
Create a strong SEO
Form collaborations
Create compelling content
Start email marketing campaigns
Make product reviews a priority
Use of influencer marketing
Retargeting advertisements
5 Most Creative E-commerce Ads Strategies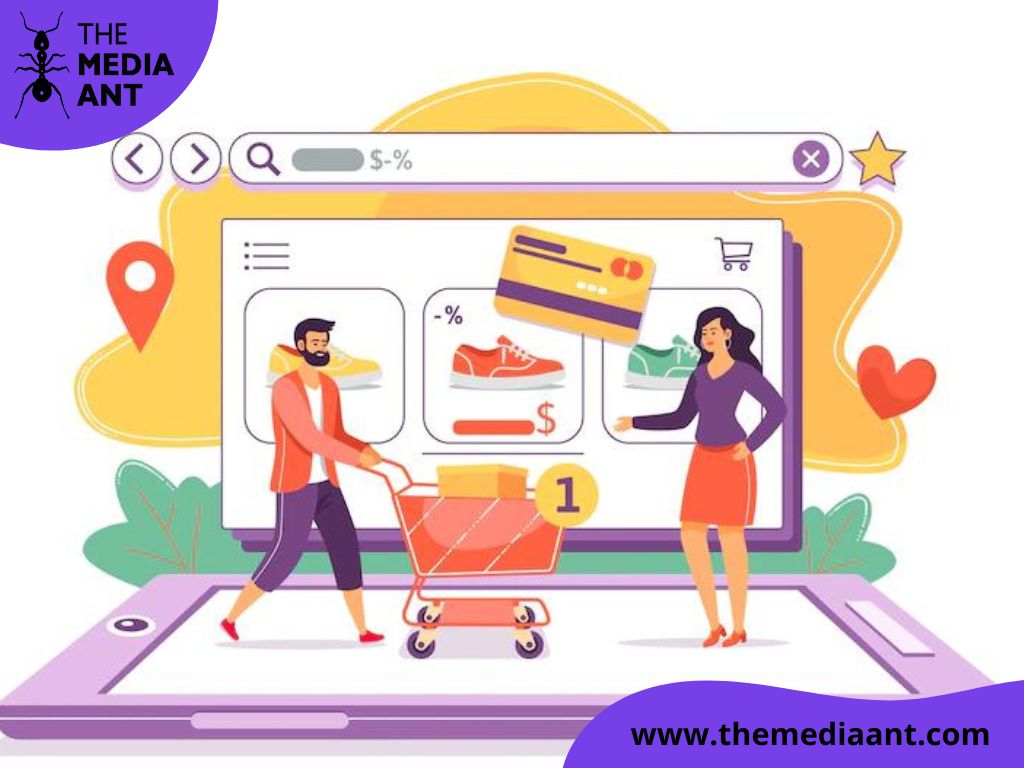 The only way to capture a potential customer's attention in a market overloaded with advertisements is to provide a personalized experience through your content, landing pages, online shop, and advertising. By learning exactly what your audience needs and then providing for those needs, personalisation aids in developing relationships with your audience.
The most effective marketers put their resources into finding customers where they congregate, which is why social media has emerged as a top strategy for DTC marketers trying to contact consumers. The US consumer spends two to three hours each day looking through social media, making this a popular advertisement location.
Most social media sites include various ad styles, targeting options, and brand visibility. Let's look at Meta, the company that owns Facebook and Instagram, as an illustration. Various ad forms are available through Meta, including video, display, lead ads (which allow users to provide their information without leaving Facebook), dynamic ads, and more. You can handle advertisements for both social media networks in one location because Facebook owns Instagram.
Several target audience possibilities exist, including audience segments made from your supplied subscriber lists or bespoke audiences made from Facebook's pixel and user data. According to Facebook's algorithm, lookalike audiences are a practical approach to connecting with people who "look like" your highest LTV clients.
Using Google's pay-per-click (PPC) advertising is another well-liked strategy to introduce new consumers to your company. The most popular website in the world, Google, provides marketers with a variety of ad types, such as Google search advertisements, Google shopping ads, and Google Adwords. Google advertisements function by matching the keywords you use in your advertising to the search phrases entered into the search box. Your ad campaigns have a specific budget and you "bid" on the most important keywords.
Google will display your ad on the SERP if it decides that it is both relevant and within the budgetary constraints (popular search phrases cost more to bid on) (search engine results page.) You only pay when a user clicks on your advertisement.
Conversational advertising
If you've read thus far, you already know how crucial personalisation is to make your business stand out from the competition and give them the impression that you care about them. Because of this, conversational marketing stands out in a sea of display advertisements.
The most prevalent type of conversational marketing you have undoubtedly encountered is a website chatbot that interacts with you on different website pages. Similarly, conversational advertising engages specific customers in 1:1 dialogues inside the context of the advertisement by using automation and logic.
Similar to how investors are advised to diversify, the most excellent method to get a high return on investment is through omnichannel advertising, which involves running ads across various platforms or channels. Even though Google, YouTube, and Facebook are some of the most popular websites in the world in terms of traffic, most consumers visit many websites daily. You can be there for customers wherever they are or from whatever source they are coming with omnichannel advertising.
Different referral sources, such as Google, influencer marketing, affiliate marketing, review websites, or social media likes, can be used with omnichannel advertising. You can track customers as they navigate the web, since interactions on one channel might update information on others.
Retargeting is an e-commerce advertising strategy to reach a previous website or app visitors, often by displaying ads or sending emails. If a visitor leaves your website without selling or accomplishing a marketing objective, retargeting enables you to catch them again.
Retargeting, for instance, enables you to display an advertisement for a product a potential buyer recently watched on a different website they frequent if they abandoned their shopping cart without completing their purchase. You can improve conversion rates and reach your marketing and income targets by re-displaying your ads.
E-commerce Advertising Examples
In the most unexpected situations, individuals may sometimes get closer to one another. Uber's #BeyondFiveStars campaign, which refers to the highest rating a consumer may give one of its drivers, was created to acknowledge these ties.
Uber urged users to use the hashtag #BeyondFiveStars on all social media platforms to showcase their beautiful interactions with Uber drivers.
Uber chose a few of these customer testimonials, turned them into films, and shared the touching tales of these drivers with millions of people. Here's a fantastic adventure from Fred, an Uber driver. Thanks to Uber, he met one of his favorite stars, the well-known American musician Pat Boone.
Uber still provides a tool called "Compliments", where users may tell their drivers how they improved their day in an effort to keep the campaign's message alive.
Outdoor clothing company Patagonia is renowned for its devoted following and unwavering support for environmental concerns. The company's social media efforts reflect its ideals and strengthen its brand identity.
Consider the "Shell, Yeah!" campaign as an illustration. Patagonia wants to advertise its 100% recyclable, water-resistant Shell Yeah range of goods. Their campaign's goals included raising awareness, increasing sales, and educating potential clients.
They produced a film demonstrating the processes used to make their goods and their beneficial effects on the environment. They later utilized it to produce several video commercials for Facebook and Instagram and used YouTube and Google AdWords to broaden their audience.
The outcomes were extraordinary. Over 66 million impressions and 728K video views were registered at the end of the advertising campaign.
Best Agency for E-commerce Advertising in India
The Media Ant, as the top digital advertising agency, provides all e-commerce advertising services across a variety of media channels, including:
OTT Platforms
Apps
Websites
Social media Platforms
Book low-cost e-commerce advertising with us and get the results you want. Our digital advertising marketing services may improve the efficacy of campaigns and promotions.
FAQs RELATED TO E-COMMERCE ADVERTISING
What are the 4 types of e-commerce?
Business-to-Business (B2B)
The term "business-to-business" (B2B) e-commerce refers to all electronic exchanges of products and services between businesses. Producers and conventional distributors primarily use this kind of internet commerce.
Business-to-Consumer (B2C)
The development of electronic commercial interactions between firms and ultimate customers distinguishes the Business-to-Consumer kind of e-commerce. It refers to the area of e-commerce devoted to retail, where conventional retail trade often takes place.
These connections can be more straightforward and dynamic, but they can also be infrequent or terminated. Due to the development of the internet, this sort of commerce has rapidly expanded, and there are now several online virtual shops and malls that offer a wide range of consumer items, including computers, software, books, shoes, vehicles, food, financial products, digital magazines, etc.
Comparing online shopping to traditional retail, consumers typically have access to more informative content. There is a general perception that online shopping will lower prices without sacrificing equally personalised customer service or the prompt processing and delivery of their orders.
Consumer-to-Consumer (C2C) (C2C)
E-commerce of the consumer-to-consumer (C2C) variety includes electronic exchanges of products and services between customers. Typically, a third party offers the internet platform where the transactions are carried out, which is how these transactions are carried out in most cases.
Business to Consumer (C2B)
In C2B, the conventional meaning of trading products is completely reversed. This kind of e-commerce is widespread in initiatives that rely on crowdsourcing. Many people sell their goods or services to businesses specifically looking for these kinds of goods or services.
Sites where designers submit several concepts for a corporate logo and only one is ultimately chosen and purchased serve as examples of such methods. The platforms that offer royalty-free photos, pictures, media, and design components, like iStockphoto, are also quite popular in this kind of commerce.
| | |
| --- | --- |
| Was this article helpful? | |
What is Ecommerce advertising?

Ecommerce advertising strategies include the application of:

Google ads (Google display network)

How can Google display advertising be useful for ecommerce businesses?

How to organize paid search advertising in Google?

Example of L'Oreal Google ads campaign

Programmatic online advertising

How does it work in a nutshell?

Advantages of programmatic advertising

Additional benefits:

How can programmatic advertising be useful for ecommerce businesses?

How to start with programmatic campaigns?

Social media platforms

How to start with paid social media ads?

Email marketing

Content marketing

Leveraging Ecommerce platforms

Tips on how to leverage platforms for Ecommerce to grow your business:

More aspects that impact the success of your Ecommerce ads and business promotion

Well-researched niche audience

A clear message that underlines your brand's strengths

User-generated content & word-of-mouth

Omnichannel marketing

Conclusions
The eCommerce advertising market is growing exponentially. Sounds impressive, but if we look at the more short-termed predictions, it becomes clear that this future is not distant.
By 2023, global Ecommerce sales will reach $6.5 trillion, and with the impact of a COVID-19 traffic surge, this transformation will only accelerate.
It is now anticipated that the fastest-growing categories, such as food and beverage, will rise to 58.5% of total retail sales, compared to the previously forecasted 23.4%.
At the same time, beauty sales predictions have increased from 16.6% to 32.4%, and a similar trend is observed for other categories.
The opportunity is just too huge to be missed, and the leading global Ecommerce brands have already entered the race for online shoppers. What are their best Ecommerce advertising methods, and what can you adopt to maintain brand awareness and sales? We'll find out in this article!
What is Ecommerce advertising?
Ecommerce advertising refers to promoting products or services offered by an online business through various digital marketing channels to attract potential customers and drive sales.
Ecommerce ads are fueled mainly by online advertising and social media platforms.
Ecommerce advertising strategies include the application of:
Google ads and other display ads (aka paid ads, video marketing included);
Search engine marketing, along with search engine optimization;
Social media ads (social media marketing platforms) and influencer marketing on social media;
Search ads (Google search campaigns);
Programmatic digital ads;
Email marketing;
Content marketing.
An effective Ecommerce advertising strategy is supposed to increase brand awareness, drive website visitors to the online store, and ultimately generate conversions and sales.
Ecommerce businesses use various advertising strategies and Ecommerce advertising platforms to target specific audiences based on their interests, demographics, behavior, and location.
By understanding consumer behavior and leveraging data analytics, Ecommerce businesses can create personalized and targeted ad campaigns that resonate with their potential customers, leading to increased engagement, conversions, and revenue.
Now let's review those Ecommerce marketing approaches one by one.
Google ads (Google display network)
Google advertising is more than just search ads that appear in the top results when you search for something. You can see the example of search ads (paid search ads) below.
There is also a platform for advertisers, thanks to which they can launch Google shopping campaigns.
The Google Display Network (GDN) is a vast network of websites, mobile apps, and videos where advertisers can display their ads to a broad audience.
It is an advertising platform operated by Google that allows businesses to reach their customers using visual ads, such as banner ads, image ads, and video ads, across millions of websites, mobile apps, and video content.
The GDN reaches over 90% of Internet users worldwide, making it one of the world's largest advertising networks.
It uses advanced targeting and optimization features, including demographic, location, interest-based, and behavior-based targeting, to help advertisers reach their desired audience effectively.
How can Google display advertising be useful for ecommerce businesses?
Google shopping ads are the most helpful option in display networks (for Ecommerce businesses). Why? Because Google shopping ads will allow marketers to involve such data in their display advertising units: photos, price, title, and reviews.
These ads will appear in the search engines when the user looks for something thematically related (and inputs keywords specifically targeted by the advertiser). You can see an example of the shopping ads below.
How to organize paid search advertising in Google?
Here are the general steps to set up a Google Search Ad campaign:
Create a Google Ads Account;
Set up a New Campaign. Then, choose «Search» in the campaign type to activate the search advertising campaign (if you want to run display ads, then choose this type);
Define Your Campaign Settings. Set your campaign's geographic targeting, language, bidding strategy, and budget;
Create Your Ad Groups. Create one or more ad groups within your campaign, each with its own set of keywords and ads. Each ad group should be focused on a specific theme or product;
Choose Your Keywords. Select relevant keywords for each ad group that people might use to search for your products or services. These keywords will be inputted into search engine results;
Create Your Ads and adjust other details like bid amounts, budget, etc.
Then your paid search campaigns can be launched, and the ad will appear in search engines each time the user searches for something related to the keywords you target.
Example of L'Oreal Google ads campaign
An excellent example is L'Oreal's Shu Uemura makeup brand which employed algorithmic capacities of Google Adwords for their ad campaign.
In 2010, the company received global recognition, but poor performance in North America required a more impactful approach to raising brand awareness.
Since they had limited distribution on the continent, the solution could only be found in programmatic advertising, as CPM campaigns are useful for raising brand awareness.
They decided to target women aged 25-30 with a history of online makeup purchasing. This audience was also divided into segments by the customer journey stages, and each segment was attributed to a unique creative.
The results were quick to come as the brand received a considerable increase in traffic and, most importantly, twice more significant revenue than initially anticipated.
Programmatic online advertising
Programmatic advertising is one of the first things that comes to mind when you think about precise targeting across multiple platforms. The technology is widely used across Ecommerce advertising for almost every business vertical.
Programmatic paid ads are even more popular than Google paid advertising for several reasons. They are very similar, and at the same time, they have differences in terms of reach and environments. Read more about it in the article — Programmatic ad network or Google display network.
As the picture above shows, programmatic advertising spending grows exponentially and accounts for at least 70% of all digital advertising budgets worldwide.
It is very cost-effective, allowing brands to choose a bidding model (such as cost-per-mille or PPC ads) under specific business goals.
By opting for a programmatic ads strategy, brands can save lots of time and money, as they significantly simplify the process of media trading because ads are purchased per impression (based on the auction model).
How does it work in a nutshell?
Programmatic is a revolutionary paid advertising strategy because it automates the processes of buying and selling Ecommerce ads.
The advertiser can serve Ecommerce ads through the demand-side platform that automatically runs real-time bidding auctions and organizes direct programmatic deals.
Thanks to the targeting options, it allows advertisers to utilize user data to find potential customers and channel it to the right viewer.
The optimal Ecommerce marketing strategy may typically involve both Google ads and programmatic. Advertisers create ads on programmatic platforms because those can offer several undeniable unique advantages.
Advantages of programmatic advertising
Variety of ad formats. As programmatic advertising campaigns can be organized on different channels (in-app, mobile web, desktop, audio, CTV), the platforms typically offer more ad formats than Google ads or social media platforms.
Video ads, native ads, remarketing ads, and interactive ads like rewarded make only the tip of the iceberg. There is a variety of ad creatives that advertisers can apply.
Diverse ecosystem. While the inventory of Google ads is only represented by placements within Google's ecosystem, programmatic can offer more diverse access to inventory types, including rare ones like DOOH, where ad spending grows exponentially.
Additional benefits:
Efficient and Cost-Effective. Programmatic advertising uses real-time bidding technology to buy and sell ad inventory, which is faster and more efficient than traditional ad-buying methods. This makes programmatic advertising more cost-effective for launching Ecommerce ads;
Better Targeting. Programmatic advertising allows brands to target their ads more accurately to their desired audience, using data on user demographics, interests, and behavior;
Precise Measurement. Programmatic advertising allows brands to track the performance of their ads more precisely, with data on impressions, clicks, conversions, and other metrics available in real time;
Improved Brand Safety. Programmatic advertising offers features to ensure brand safety, such as the ability to exclude specific websites or content categories from ad placements. This helps brands to avoid appearing next to inappropriate or harmful content;
Dynamic Optimization. Programmatic advertising allows brands to optimize their campaigns in real time, with the ability to adjust bids, targeting, and creative based on performance data. This helps brands to achieve better results and maximize their ROI.
How can programmatic advertising be useful for ecommerce businesses?
Programmatic falls within super effective Ecommerce advertising techniques because it can boost Ecommerce sales through the most precise targeting. Ecommerce brands can also target customers based on location and drive them to brick-and-mortar Ecommerce stores.
Brands can also target customers near competitor's Ecommerce store with ads that offer great discounts. Read more about geofencing and geotargeting campaigns. Also, see examples of best Ecommerce ads (with best practices).
How to start with programmatic campaigns?
The algorithms are pretty much the same as for Google's platform. First, the marketer must register at the demand-side platform, fill out campaign details, define the budget, and activate the campaign.
Display ads will be served as soon as the campaign is activated and the team moderates the creative. Then advertisers can make adjustments and optimizations to improve campaign performance.
Social media advertising is a sure way to appeal to large audiences because social media gather all kinds of audiences. People spend most of their time on social media apps; the number of smartphone users is increasing worldwide, meaning that Ecommerce companies can target users wherever they are.
Ecommerce companies can leverage social media advertising in the following ways:
Create targeted Ecommerce ads. Ecommerce companies can create targeted ads shown to users based on their interests, demographics, and behaviors. Social media platforms such as Facebook, Instagram, and Twitter offer advanced targeting options that can help brands reach their desired audience;
Run influencer campaigns. Ecommerce companies can collaborate with influencers who have a large base of followers on social media to promote their products;
Use social media to showcase products. Ecommerce companies can use social media to showcase their products and build excitement around new releases. Brands can post high-quality photos and videos of their products, share content generated by users, and run contests to engage their followers;
Utilize social commerce. Social commerce is a new trend that allows customers to purchase products directly on social media. Ecommerce companies can use social commerce to sell their products without customers having to leave the platform;
Engage with customers. Ecommerce companies can use social media to engage with their customers by responding to comments and messages, asking for feedback, and addressing any concerns or issues that customers may have.
How can social media advertising be useful for ecommerce companies?
Social media ads can help brands achieve higher customer acquisition and retention as it fosters loyalty to the brand. They can also effectively drive attention to product pages. On social platforms, brands can run Ecommerce campaigns with unique formats.
For example, a Facebook video ad is an effective tool for brands to showcase their products and tell their brand story:
Collection Ads. Collection ads are a type of ad format on Facebook and Instagram that allow Ecommerce companies to showcase multiple products within a single ad;
Dynamic Product Ads. Dynamic product ads allow Ecommerce businesses to retarget users who have previously interacted with their products on their landing pages.
In order to start running paid social Ecommerce ads, first, brands need to choose a platform for social media advertising — Instagram ads, Twitter, LinkedIn, or Facebook Ads Manager.
Then the brand should choose available ad formats. Social media platforms offer several ad units, including image ads, video ads, carousel ads, and more. Choose the format that best fits your goals and message.
After this, you can select targeting and start a campaign like on any other platform.
On social media, you can run the best Ecommerce ads. However, it's worth remembering that they will appear only across a selected range of inventory (represented by social platforms). It means that users won't interact with ads in search or when browsing the articles on some websites (compared to programmatic).
Email marketing
Promoting goods and services with email marketing may seem like an old strategy, but it is still here — it is most effective for targeting existing customers and generating leads.
Email marketing is a digital marketing strategy that involves sending commercial messages, typically in the form of email newsletters, to a group of subscribers. Email marketing aims to build relationships with customers, promote brand awareness, and drive sales and revenue.
Email marketing campaigns typically involve sending targeted messages to a list of subscribers who have opted-in to receive emails from the brand. These emails can include various content, such as promotional offers, product updates, company news, and educational content.
Email marketing can also be an effective way to drive conversions and revenue for Ecommerce companies. By including calls-to-action and promotional offers in their emails, brands can encourage subscribers to purchase or take another desired action.
Email ad campaigns are:
Cost-effective. Compared to other forms of marketing, email marketing is relatively inexpensive. There are low or no costs associated with sending emails to subscribers, making it a cost-effective way to reach a large audience;
Targeted. Email marketing allows businesses to send personalized messages to specific audience segments. By segmenting email lists based on subscriber behavior or preferences, businesses can tailor their messages and increase engagement and conversion rates;
Great at building customer relationships. Email marketing is a great way to build relationships with customers and keep them engaged with a brand;
Great at driving sales and revenue. Email marketing can effectively drive sales and revenue for businesses, particularly for Ecommerce companies.
How can email marketing be useful for ecommerce companies?
One of the key benefits of email marketing is that it allows brands to target specific audience segments with personalized messages. For example, brands can send different emails to customers who have made a purchase or those who have not yet made a purchase in the online store, or customers who have shown interest in specific products or services.
How to start with email marking?
Before launching an email ad campaign, building a quality email list of subscribers who have opted-in to receive emails from your brand is essential. You can do this by offering incentives to customers who sign up for your email list, such as exclusive discounts or free content. Personalizing the campaigns for each segment will significantly improve the campaign's performance.
Content marketing
Ecommerce sites can also greatly benefit from written content: educational materials for customers, SEO-optimized articles with market insights, and so on.
The content can take many forms, including blog posts, articles, videos, social media posts, useful landing pages, infographics, white papers, case studies, e-books, and more. The key is that the content must provide value to the audience and address their needs, interests, or pain points.
It is a long-term strategy focusing on building relationships with the audience rather than directly promoting products or services.
By providing helpful and informative content, businesses can establish themselves as thought leaders in their industry and gain the trust and loyalty of their target audience. This, in turn, can lead to increased brand awareness, website traffic, lead generation, and, ultimately, sales.
Advantages of content marketing:
Builds brand awareness. Creating valuable content helps to build brand awareness and increase your online presence;
Cost-effective. Compared to other forms of marketing, it is very affordable;
Increases customer loyalty. By providing ongoing value to your audience, you can increase customer loyalty and encourage returning to the brand;
Improves search engine rankings. Search engines like Google reward websites that publish high-quality, relevant content with higher search engine rankings.
How can content efforts be useful for ecommerce companies?
In the competitive world of Ecommerce, creating high-quality content is essential. This means creating content that is visually appealing, informative, and engaging. Consider using a mix of formats, such as blog posts, videos, infographics, and social media posts, to keep your content fresh and engaging.
Creating great content is only half the battle. To maximize its impact, you need to promote it across multiple channels, such as social media or email.
Building an impeccable image also constitutes writing press releases and big media articles.
How to start with content strategy?
Content creation is a much longer process compared to paid media ad placement. In order to start off, an Ecommerce company needs to compose a content strategy, determine KPIs that need to be achieved, hire content specialists, or commission content creation to third-party services.
Leveraging Ecommerce platforms
Those platforms are software applications that allow businesses to create online stores and sell their products or services online. These platforms provide a range of tools and features to help businesses manage their online stores, including product catalog management, payment processing, order fulfillment, shipping, and customer management.
There are two main types of these platforms:
Hosted platforms. Hosted platforms are cloud-based software applications that are managed by a third-party provider. Businesses can create an online store on these platforms by signing up for a subscription and customizing a pre-built website template. Hosted platforms typically offer a range of features and integrations to help businesses manage their online stores;
Self-hosted platforms. Self-hosted platforms are open-source software applications that businesses can download and install on their own servers. These platforms provide more flexibility and control over the Ecommerce store's design and functionality but require more technical expertise to set up and maintain.
Some popular platforms include Shopify, WooCommerce, Magento, BigCommerce, and Squarespace. The choice of platform depends on the business's needs, budget, and technical expertise.
Tips on how to leverage platforms for Ecommerce to grow your business:
Optimize your product listings. Optimizing your product listings is important to attract more customers and improve conversions. Ensure you include high-quality product images, detailed descriptions, and pricing information. You can also use customer reviews and ratings to build trust and increase social proof;
Use data to drive decision-making. Ecommerce platforms provide valuable data on customer behavior, sales trends, and website performance. Use this data to make informed decisions about product development, pricing, marketing, and website optimization;
Offer personalized experiences. Collect data on your customers' behavior, preferences, and purchase history. Use this information to offer personalized experiences, such as personalized product recommendations, targeted promotions, and customized content;
Optimize for mobile. More and more customers do the shopping on mobile devices, so optimizing your Ecommerce platform for mobile is important. Make sure your website is mobile-responsive and offers a seamless user experience across all devices;
Integrate with other tools and platforms. Those platforms offer a range of integrations with other tools and platforms, such as email marketing, social media, and accounting software. Take advantage of these integrations to streamline your workflows, improve efficiency, and drive more sales;
Provide excellent customer support. Platforms for Ecommerce provide a range of tools to manage customer inquiries and support. Ensure you provide excellent customer support through multiple channels, such as email, chat, and phone, to build customer loyalty.
Well-researched niche audience
A well-defined niche audience is a fundamental value for any ad campaign. One Ecommerce business obviously cannot satisfy everyone's needs, so a crucial step for successful advertising and marketing in Ecommerce is to define and target the audience interested in the specific product or service your business delivers.
Define your market and your target audience persona, then tailor a particular message to them so that it perfectly resonates with a search term they use most frequently. The best thing you can do for your customers when building your online advertising strategy is to speak their language.
Thus, make sure to display ads that show that you care. Here are two examples to illustrate how such an Ecommerce advertising strategy should work:
Nine Line is an excellent example of a brand with precisely defined target audiences and a specific message that fits them.
Veterans founded the company; they hired veterans, addressed veterans, and appealed to their needs and values in the ads.
Using specific language, Google search keywords, and designs strengthen their message and increase customer loyalty. Such a strategy creates a clear brand image that makes it unique and recognizable.
Not sure who your target audience is and what they are looking for? A common element of online advertising mechanisms in Ecommerce is a survey.
You can use reviews to communicate with your customers on the different stages of the buyer's journey in the same way that Society Socks does. They created a series of relevant, user-friendly surveys and asked their visitors for feedback.
They simplified the process and reached their prospects at the right time via the right channel. This way, the company increased response rates by 200% and gathered valuable user data.
A clear message that underlines your brand's strengths
Defining your audience is just a foundation crucial for achieving the next step — tailoring a clear and understandable message highlighting your product's unique strengths. This stage is vital for online marketing and advertising in Ecommerce.
You can get lots of high-quality traffic, but turning this traffic into conversions makes communication your number one goal.
Remember that the message on your banner ads should be clear and engaging, and your landing page should accurately describe your products and their strengths. If you offer something valuable — let your customers know. Here are some examples:
Budapester, a German fashion retailer, had a low conversion rate despite lots of traffic. Their mobile version of the website performed even worse, so to improve the situation, the first thing they did was website optimization.
They decreased their logo size and ensured the users got all the information conveniently. Specifically, shipping options, product availability, and free delivery offers could be found right on the product web page.
The result? 12.5% increase in conversion rate for desktop and up to 30% for mobile. These are pretty significant changes for minor website optimization, but that is how effective communication works.
We can find another example of effective online marketing communication in the case of a small paper company, Paperstone, which competed with larger brands.
To stay ahead in the challenging market, they chose one of the best strategies — to demonstrate their advantages compared to other companies.
Price was defined as one of the core advantages, so the solution was simple — adding a price comparison table throughout their website so the customer could instantly decide without checking the competitors' offers and online ads.
As a result, their online sales increased by almost 11%. This campaign practically refers to a successful Ecommerce advertising definition.
User-generated content & word-of-mouth
There's probably no better match for Ecommerce and advertising than testimonials of your happy customers. People trust their friends' recommendations rather than ads or blog posts.
The good thing about it is that your satisfied customers can often help you with more than a dozen online marketing tools.
They can spread the word about you, help you reach new customers, and even showcase their use of your products. The benefits of such promotion are hard to overestimate, as we will see from the following example:
'Diamond Candles' is a beautiful example of a successful digital marketing strategy based on this method.
This Ecommerce advertising strategy increased their conversion rates by 13%, boosting brand awareness and customer loyalty. To achieve that, they offered a ring inside every marked candle and encouraged their clients to share photos of the ring on social media.
Then, they collected galleries to create more substantial brand recognition to get even more exposure via Facebook ads. This way, they transformed buying a candle into an adventure and their customers into their brand ambassadors.
Omnichannel marketing
So we know how to get a decent brand reputation and sales. The core element is to create a personalized experience for your precisely defined target audience. But how to make your business' performance not just decent but outstanding?
What kind of strategy should a brand choose in this case? Meet omnichannel marketing! Here is an example of how a leading fashion brand used it.
Seamless, personalized user experience across all platforms and stores is a mission chosen by Zara's Ecommerce advertising team.
To achieve this, they've created an easy-to-navigate website that vividly showcases their products and provides all the information for the purchase. They also created a mobile app with the same notion of user experience.
Finally, they've also crafted personalized email notifications for their clients. The key feature of these emails was relevance, so they kept messages precisely targeted to each audience segment, e.g., clients who have kids received updates about new items in the category for children.
Conclusions
Leveraging the best practices of Ecommerce and advertising, you can impact your business success and obtain significant long-term benefits such as user loyalty.
Start researching your audience, then create precise messaging for each segment of your audience. Finally, apply programmatic advertising solutions to personalize message delivery for every customer. As a result, your Ecommerce advertising will always be engaging and cost-effective.
Automate media-purchasing of your Ecommerce brand on
SmartyAds DSP

!

Written by

Irina Kovalenko,
CMO of SmartyAds

July 2020