Part of the difficulty lies understanding which campaigns, offers, and onsite tactics produce the best results. Not just at the top of the funnel, but over the long term as well.
Given the multi-channel nature of ecommerce, a new customer may have searched for your brand on Google right before making a purchase. That sort of one-two funnel is easy enough to track.
But how can you be sure which ad made the initial and lasting impression that drove them to search?
In this post, we'll walk step by step through each stage of your funnel — from awareness to loyalty — examining how ecommerce data analysis can improve your marketing and drive more sales.
Ready to grow your business with ecommerce data analysis?
Despite its size and depth, this article is an abbreviated excerpt from the Shopify Plus Data Analysis Course, one of many courses available exclusively to Shopify Plus merchants.
Even better, all of the custom Google Data Studio dashboards you see below are available for instant access. Access the full course.
Not on Shopify Plus? Connect with us today
Awareness Analysis for a Better Brand
When most people hear "brand awareness," they think one of two things:
That's a waste of time and money; it doesn't work
That's only for big-name brands like Coca-Cola and Tesla
In fact, brand awareness can yield tangible results for businesses of all sizes. Just take a moment to think about a local mom-and-pop shop or restaurant in your town. Where's the first place you turn locally for something like a slice of pizza?
Odds are a specific place immediately jumped to mind. Why? Brand awareness. It might not be the result of an ad campaign, but that brand is positioned — in your eyes — as the number one choice.
And data backs this theory up.
Simply put, the vast majority of consumers have severe brand bias. More than ratings (social proof), free shipping, free returns, or discounts and sales, people are clicking on brands they recognize.
Brand bias is explained by the exposure effect, where people are drawn towards things, concepts, and people they've been exposed to more frequently. It's why remarketing leads to more branded search traffic.
To optimize your online funnel at this stage, we can break down awareness into three segments:
How much new awareness are you generating?
What channels drive this awareness?
How effective is each channel?
To get impactful answers, metrics matter (e.g., ecommerce data analysis). The key performance indicators (KPIs) to focus on are:
With metrics like bounce rate, average session duration, and pages per session, you can see how engaged new, unaware visitors are. You can also measure the effectiveness of various channels:
Of course, the danger of a metric like brand awareness is getting lost in vanity metrics that don't tell the whole story. That's why it's critical to look closely at your spend and most importantly, customer acquisition costs:
To get a better understanding of how each channel plays a role in brand awareness, let's conduct a channel analysis.
Regarding KPIs for a channel analysis, we again want to focus on the very same metrics mentioned earlier.
Here, we see everything from impressions to CTR to CPM. If your data is connected in Google Analytics, you can further assess how this channel played a role in developing awareness on site.
Using multiple variables like a secondary dimension can help you avoid a static analysis and elicit true performance.
To get even more specific, you can set up recommended or custom Events and use them as filters as dimensions to inspect conversions — like email signups and form completion — through this report.
When doing this type of data analysis for the top of your funnel, pay special attention to micro-conversions.
Images
Reviews
Colors
Size Chart
Size or Fit Selector
Shipping
Returns & Exchanges
Essentially, these are signals that show you how the buying process works and what features are most important for consumers before they commit.
To track all those micro conversions, configure the various clicks as Events in Google Analytics on your most popular pages — e.g., landing pages for paid traffic and top pages for organic traffic — and then segment by first_visit.
Conversion Analysis for Purchase Behavior
A conversion ecommerce data analysis focuses on the middle and bottom sections of your funnel. It's used to get an idea of what behaviors — i.e., on-site actions like pages visited, searches, etc. — lead to a conversion:
By the end of this section and analysis, you should be able to answer four questions regarding purchasing behavior in your online funnel:
What behaviors lead to conversion?
How effectively are we encouraging these behaviors?
What channels drive the highest conversion?
The main KPIs and metrics include:
Naturally, site-wide conversion numbers are a fantastic starting point. To do that, analyze your conversion metrics in the Shopify dashboard:
These conversion metrics give you a baseline, but you can also run additional reports filtered by "traffic referrer" to see how sales and conversation rates vary by channel:
However, the best way to do this is by utilizing the custom Google Data Studio dashboards built for Shopify Plus merchants inside the full Data Analysis Course:
For multi-channel ecommerce, the next ecommerce data analysis is perhaps the most-valuable report this post contains.
Using the custom Looker Studio dashboard within the course, you can measure (1) how new visitors compare to returning visitors as well as (2) how your sources and mediums (i.e., channels) perform:
Notice that returning visitors convert at a much higher percentage. This goes to show why brand loyalty is important and can help you build a case for investing more in remarketing.
Within these subsets, you can then analyze micro-conversions from each channel like add to cart, reached checkout, and more:
Once you've baselined your channels to see which produces the best conversion rates, it's time to dig deeper and determine your Opportunity Pie and the reasoning behind those conversions.
The Opportunity Pie is the amount of traffic you get that can to convert. It helps to weed through hoards of traffic that will never convert, giving you a more realistic conversion analysis. This process is necessary because not everyone that clicks on your site can convert. Some might not need your product. Others might just be there for the secondary information.
One of the easiest ways to determine your Opportunity Pie is to exclude traffic from your site, that spent less than ten seconds on site. You can do this by creating a custom segment in Google Analytics:
This simple tweak to Analytics' channel reports helps you weed through new visits who landed on your page but left immediately after recognizing that it wasn't for them. Not removing them clouds your conversion data with potentially hundreds or thousands of visits a month that were never going to convert.
A second option is surveying web visitors to see what percentage are there to shop, browse or other reasons like applying for a job or a wholesale application. This exercise helps to sort the convertible visits from the unconvertable again.
Loyalty Analysis for Brand Evangelists
Not only does it increase your lifetime value, allowing you to spend more on customer acquisition, it also enables free affiliate marketing from the words of actual customers.
Conducting a loyalty analysis should focus on answering five questions:
How effective are you at retaining customers?
How many of your customers are you 'at risk' of losing?
On average, how often do customers purchase?
What stops first-time purchasers from making a repeat purchase?
How can you improve your customers' experience?
The main KPIs to track are customer lifetime value (LTV), repeat purchase rate, product reviews, and qualitative metrics like NPS, CSAT, and voice of the customer surveys.
Happiness and delight are difficult emotions to quantify. But with a combined approach, you can get a strong idea of how evangelical your buyers are.
Using the Glew.io Shopify integration, you can segment your customer lifetime values by acquisition channel:
Using this report can give you a clear picture of which channel produces the highest LTV customers. For example, in this sample report, organic search is generating tons of repeat customers at a high lifetime value, indicating that it's succeeding in creating a flow from awareness to a loyal customer.
If you're not sure whether your business is acquisition or repeat customer heavy, check the repeat customer rate report:
This report outlines if you are acquisition or retention focused. It also shows the balance between acquiring or keeping customers and where you can look to improve the loyalty-based portion of your funnel.
Another great metric to look at is your average time between purchases.
This will show you if you need to either:
Decrease the time in between purchases and cross-sell more often
Increase average order values by offering bundles or ways to increase the standard value of a product
If you have high purchase values or average order values, you need fewer purchases per year for each customer. Conversely, if you have a low average order value, you'll need people to purchase more often to maintain a high LTV.
Pura Vida Bracelets faced this problem when looking to scale its business.
To help drive average order values, they also instituted free shipping when customers spend $25 or more.
In fact, Pura Vida Bracelets uses a host of ecommerce tools to optimize their entire funnel.
Once you've analyzed these reports and have a solid foundation of your repeat customer rate, you should have answers to a few fundamental questions:
How effective are you at retaining customers?
On average, how often do they purchase?
If your repeat purchase rate is high, you're already doing a fantastic job at creating loyal customers. If it could be higher, you have a great opportunity to increase it. Tools like the Net Promoter Score (NPS) will let you gauge customers satisfaction.
Using Customer Guru with Shopify, you can quickly survey customers at the end of a purchase and compare that back with average NPS' for your industry.
Take this analysis one step further by segmenting your results based on customer behavior:
One-time buyers
Multiple purchases
Finish off your analysis with a qualitative, voice of customer survey.
The voice of the customer is an open-ended question that your customers or visitors can answer in their own voice. As Avinash Kaushik says in his book Web Analytics: 2.0,
It cannot, no matter how much you torture the data, tell you why something happened.
Only your visitors and customers can tell you why something happened, so engage them in a conversation through reviews and surveys.
Reporting Frequencies for Optimal Performance
Below are some general recommendations for how often to review reports and what main points on which to focus your time.
Review general business objectives and top-level KPIs (CPA, Conv. Rate, LTV). Summarize your past quarter's funnel metrics: awareness, conversion, and loyalty.
Take a deep look at each stage of the funnel from awareness to conversion to loyalty. Focus on running each analysis for each channel to see what can be improved.
Complete a channel analysis for your main channels. If your focus is generating awareness, for example, you will need to review your advertising KPIs (as mentioned earlier in this post) to tweak campaigns and double down on the most successful ones.
Let the Data Guide You
Conversion funnels are a law of nature. Just as gravity explains how water falls down a mountain, a funnel is our way of explaining why and how visitors interact with our website. Data analysis is just our way of tracking and explaining it.
But it's not always that simple. Understanding which factors, channels, and tactics worked requires a deep analysis at each stage of the funnel.
Conversion Funnel Analysis FAQ
Conversion funnel analysis is the process of analyzing the path taken by customers as they move through an online sales funnel. This analysis helps to identify areas where customers are dropping off or losing interest, as well as areas of the funnel that could be improved to increase conversion rates. This type of analysis can be used to improve the overall customer experience, identify weak points in the customer journey, and optimize the funnel to increase sales.
What are the 4 stages of a conversion funnel?
Awareness: This stage is when potential customers become aware of your product or services. For example, through advertising, content marketing, word-of-mouth, etc.
Evaluation: At this stage, potential customers take a closer look at what you have to offer. They may compare similar products, read customer reviews, or watch product demos.
Purchase: Finally, potential customers decide to purchase and become customers. This is the end of the conversion funnel.
What is a good conversion funnel?
A good conversion funnel typically consists of four stages: 1) Awareness: Reaching potential customers through targeted marketing efforts, such as search engine optimization, social media, email campaigns, etc. 2) Interest: Engaging potential customers and providing useful information about your product or service. 3) Consideration: Encouraging potential customers to take action by providing incentives, discounts, or other forms of value. 4) Conversion: Capturing the customer's information and turning them into a paying customer.
What is the conversion stage of the funnel?
The conversion stage of the funnel is the point in the customer journey where a potential customer takes a desired action, such as making a purchase, signing up for a newsletter, or filling out a form. At this stage, the customer has already been persuaded to take action and is ready to convert.
Read More
In ecommerce and DTC, your customers have all the power. They're armed with reliable product reviews from their peers, the ability to quickly compare prices between online stores, and the opportunity to vote with their wallets.
Their expectations are high and to give them a reason to buy from you, you need to offer them the best possible online shopping experience.
No matter how you slice it, there's only one thing that will help you do it right: data.
And that's where ecommerce analytics come in.
What is ecommerce analytics?
Ecommerce analytics is the process of gathering data from all areas that have an impact on your online store and using this information to understand the trends and the shift in consumers' behavior to make data-driven decisions that will drive more online sales.
Ecommerce analytics include metrics related to the full customer journey from discovery, to acquisition, to conversion, finally to retention and advocacy.
The importance of ecommerce analytics
The evolution in consumer demand, combined with technological innovations, will continue to drive growth in global ecommerce sales. According to Statista, the number of people buying goods and services online is expected to reach 2.14 billion in 2021, up from 1.66 billion global digital buyers in 2016.
What's even more impressive is the fact that the industry is forecasted to double in size within the next two years and grow from 3.53 trillion US dollars in retail ecommerce sales in 2019, up to 6.54 trillion US dollars in 2022.
The key drivers of success over the next decade will be centered on building a deep understanding of and connection to the empowered consumer, and the only way to understand consumer behavior is to measure and analyze.
Data from Deloitte shows that 49% of respondents say that analytics helps them make better decisions, 16% say that it better enables key strategic initiatives, and 10% say it helps them improve relationships with both customers and business partners.
Yet, it seems that companies are having a hard time navigating through all the numbers. As reported by Profitero, for 51% of brands, "measuring and reporting on how ecommerce is performing as a distribution channel" is a top challenge.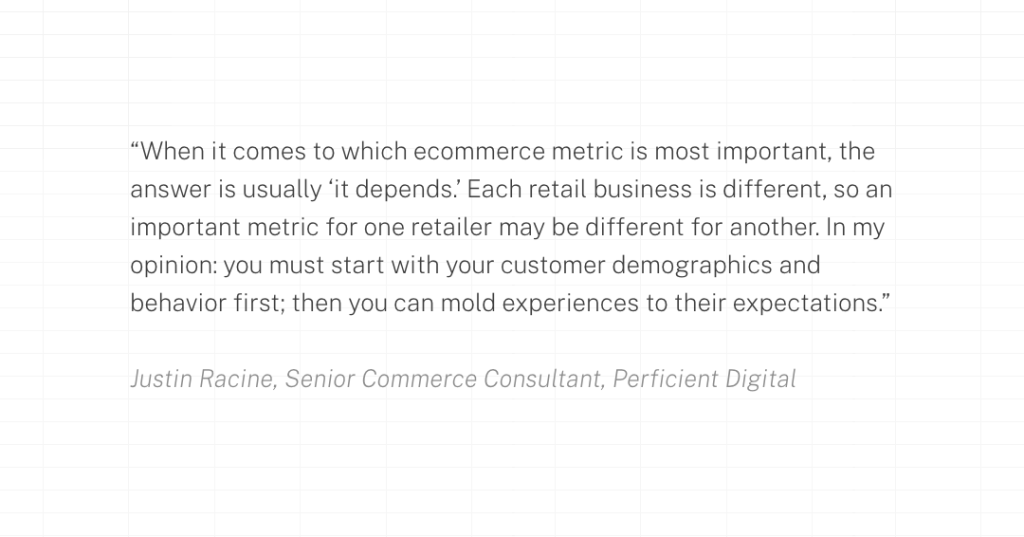 Over the past two months, there has been a huge year-over-year (YoY) increase in ecommerce due to the coronavirus outbreak. According to CCInsight, U.S. retailers' online YoY revenue growth is up 68% as of mid-April, surpassing an earlier peak of 49% at the beginning of 2020.
Challenging times are the catalyst for growth. This once-in-a-generation shift we're witnessing will have a profound impact on our lives, and it will emphasize even more the importance of ecommerce.
Companies that want to take advantage of the increased traffic and online sales, but also get ready for the new normal have to understand data and rely on ecommerce analytics.
5 key areas of ecommerce metrics
When it comes to ecommerce metrics, one common mistake companies make is they get overwhelmed just by thinking how much information they need to gather. So in most cases, they decide to make their decisions based on a gut feeling instead of real insights.
The truth is, there are plenty of metrics, but you need to start with the essential and look at the big picture.
To make things simple and clear, we'll separate the most important ecommerce metrics in 5 pillars that cover the whole customer lifecycle.
Discovery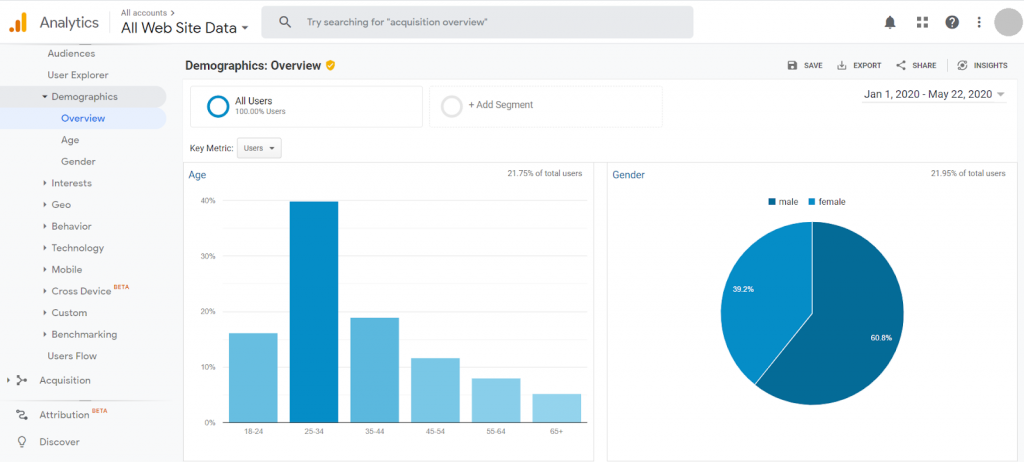 Besides these basic metrics, you should also pay attention to the email and social media engagement metrics:
When it comes to organic search, analyzing metrics like search volume and keyword rankings can give you great insights on where you should focus your ad spendings and make it easier for consumers to find you.
Acquisition
Moving to the next step: measuring the number of consumers that visited your store and the cost of acquisition.
All the time and money you invest in the discovery phase is worthwhile if visitors actually get to your online store. Google Analytics gives a great overview of different channels' performance and goal conversion rates.

Here are some metrics that you should have in mind related to customer acquisition:

Cost per lead (CPL) — the average cost of generating new business leads

Cost per acquisition (CPA) — this metric goes one step further and measures the average cost of acquiring a customer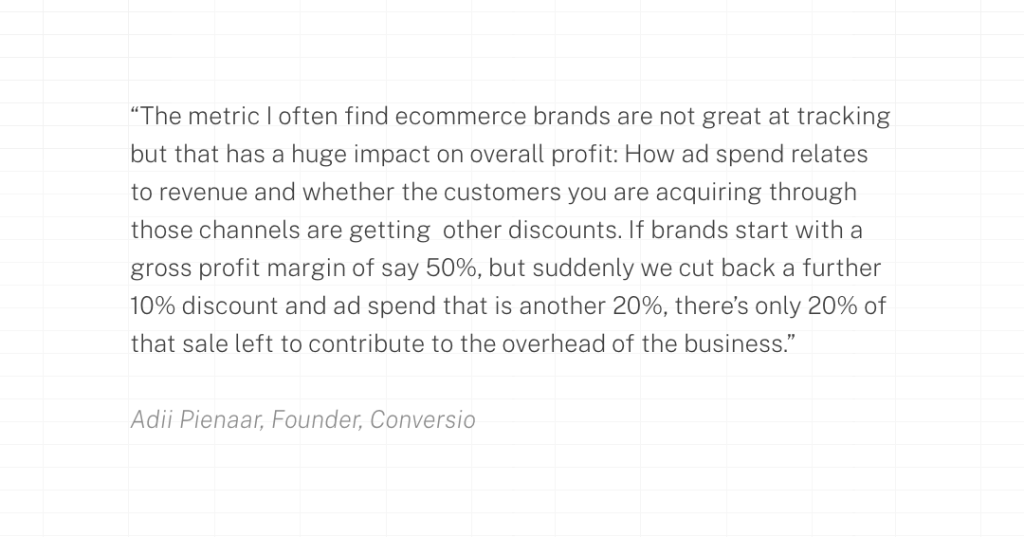 Now that you've managed to bring visitors to your ecommerce store, it's time to convert them into customers. Unfortunately, not everyone that visits your store will end up clicking the add to cart button.
Sales conversion rate — the percentage of visitors who make a purchase on your online store; increasing the traffic to your website will help you reach your target sales.

Average order value (AOV) — the average amount of money spend when a customer places an order on your website
Cart abandonment rate — the percentage of shoppers who add products to the shopping cart but abandon your store before completing the purchase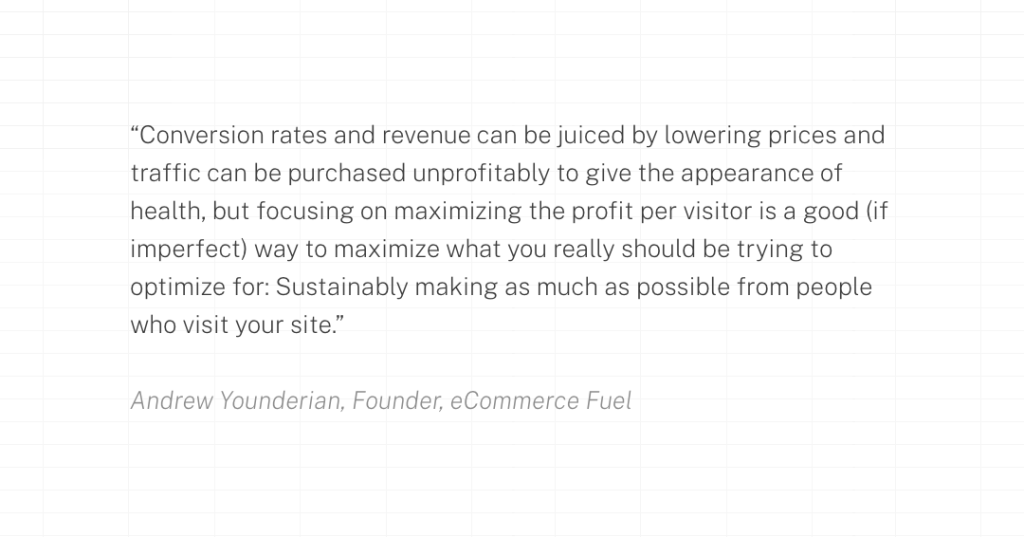 Retention
Smart businesses know the value of loyal customers. Being able to retain customers pays dividends in the long run. Always have in mind that acquiring new customers is way more expensive than retaining existing ones. On top of that, increasing customer retention rates by 5% increases profits by 25% to 95%, according to research done by Frederick Reichheld of Bain & Company.
Here are some of the metrics that can help you measure customer retention:
Customer lifetime value (CLV) — represents the total amount of money a customer is expected to spend in your business, during their lifetime; one of the main goals for every company is increasing this value

CLV = Customer value (CV) x Average customer lifespan (ACL)
ACL = Total customer lifespans / Number of customers
CV = Average purchase value (APV) / Average purchase frequency rate (APFR)
APV = Total revenue / Number of orders
APFR = Number of purchases / Number of customers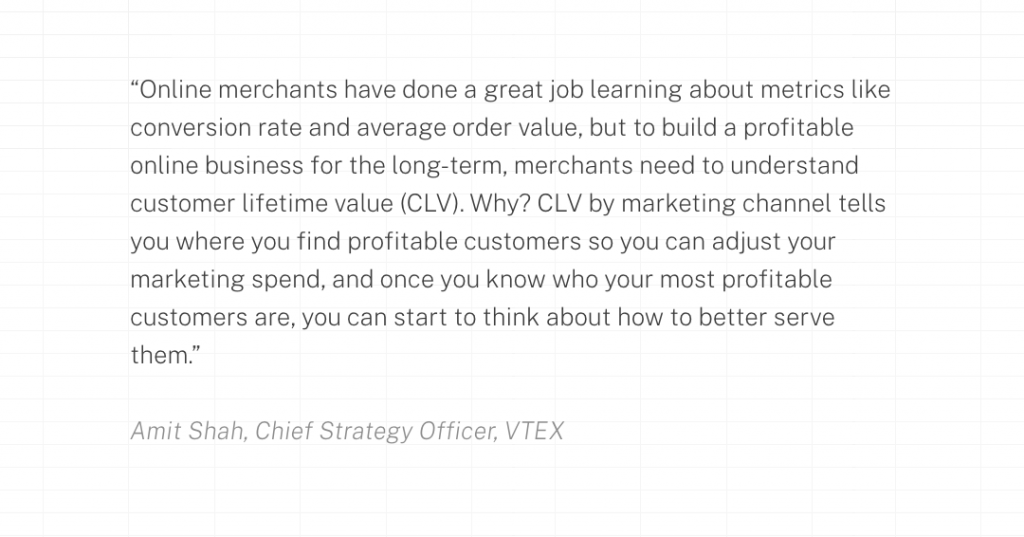 Customer retention rate vs. churn rate — customer retention rate represents the percentage of customers the company has retained over a given period. Opposite to that, the churn rate is the percentage of customers a company has lost over a specific period



Advocacy
Shoppers that reach this stage are far more than regular customers. They are your brand ambassadors. Not only do they love your products, but they're also telling their friends and family about it. This stage of the customer's lifecycle is often overlooked, and that's a huge mistake. Being aware of the metrics from this pillar and acting accordingly is what makes the difference between an average ecommerce business and a successful one.
Net promoter score (NPS) — this tool helps you measure how willing your customers are to recommend your products or services to others; these valuable insights will help you categorize customers in three groups:
Promoters — your most loyal customers
Passives — customers that are satisfied with your service but not happy enough to be your brand ambassadors
Detractors  — red flag, unhappy customers who are not just unlikely to buy from you again, but they may even discourage others from doing so.
Besides this one, metrics like newsletter subscriptions and the number of participants in your loyalty programs are also indicators that can help you measure brand advocacy.
Now that we've covered basic ecommerce metrics it's time to move to more advanced ecommerce analytics.
The power of Enhanced Ecommerce in Google Analytics
Besides the standard ecommerce tracking, Google has an Enhanced Ecommerce plugin that is not fully utilized by companies, despite the fact that it's packed with tons of valuable and free data.
Even though it's not a plug-and-play solution, and it takes some time to set up the tracking, the value that you receive from having the additional data is worthwhile. For a more detailed explanation of the technical aspects of the integration, you can check on Google Developers.
Some ecommerce platforms like Shopify, Magento, and Woocommerce offer a built-in integration.
Unlike the standard data you get from Google Analytics that is collected after purchase, with the Enhanced Ecommerce tool, you get information from across the entire customer journey. This
allows you to generate business insights that will help you grow your online store, improve the performance of your products, as well as your marketing efforts.
What are some of the insights you can get from Enhanced Ecommerce?
Shopping Behavior Report — gives you insight on the number of sessions at each stage of the funnel. Starting from the visitors that only view your products, moving to those who add products to their cart, how many initiated checkout, and lastly, how many sessions finish with a transaction. This report gives you a clear picture of how visitors move down the funnel and helps you identify what you can fix in the process to increase the number of transactions.
Checkout Behavior Report — this report is similar to the Shopping Behavior report, but it's focused on the steps included in the checkout process. Using this report, you can easily track how customers behave during checkout and at what point most of them decide to give up.
Product data
Using the Enhanced Ecommerce tool, marketers can collect invaluable information related to the products and their performance.
Product Performance Report — there are two types of views included in this report:
Summary view — here you have a sales performance section and a shopping behavior section. In the sales performance section, you can find insights like product revenue, unique purchases, quantity, average price, average quantity, and product refund amount. In the shopping behavior section, you can find the basket-to-detail-rate (number of products added per number of product detail views) and buy-to-detail-rate (number of products purchased per number of product detail views).
Shopping behavior view — if you navigate to the shopping behavior view, you can find data related to the engagement with your products, including product list views, product detail views, product adds to basket, product removes from basket, product checkouts, and unique purchases.
Sales Performance Report — in this report, you can find information about revenue, tax for your online transactions, delivery charges, refund amount, and number of products sold. You can track sales by transaction ID or by date.
Product List Performance Report — this report gives great insights into related products, cross-selling, and up-selling. Based on the grouping of products on your site, you will be able to collect information about product list views, product list clicks, and product list CTR.
Marketing data
Besides the information you collect about shopping behavior and product performance, the Enhanced Ecommerce tracking allows you to measure internal and external marketing efforts.
Internal Promotion Report — here you can find insights related to internal promotion tools like banners placed on one page of your website that lead to another section. In this report, you can see metrics like internal promotion views, internal promotion clicks, internal promotion CTR, transactions, revenue, and transaction per internal promotion click.
Order Coupon Report — this report shows metrics related to the performance of your order coupons in terms of revenue, transactions, and average value.
Product Coupon Report — similar to the previous report, this one gives you insights related to the performance of your product coupons in terms of revenue, unique purchases, and product revenue per purchase.
Affiliate Code Report — in this report, you can find information on how affiliate sites contribute to the success of your online store. Here you can track small business metrics that show revenue, transactions, and average order value.
9 benefits of ecommerce analytics
Today's customers make informed decisions. They research products, compare prices, read reviews, and look for unique experiences before they decide to click the add to cart button. Being able to understand their behavior will help you stay ahead of the game.
Here are nine benefits that you can get out of ecommerce analytics:
Data-driven product development
Customers have more options and control than ever before. The number of choices leads to high expectations, and companies will need to dramatically improve their capabilities to keep up with the accelerating expectations of consumers. Having evidence of consumers' likes and dislikes and capitalizing on that knowledge in the product development process is the key to creating a product that customers will love.
Good inventory management
The continuity of your online store depends on how good your ecommerce inventory management is. Knowing where your products are and when is the right time to reorder will save you a lot of headaches around order fulfillment. Besides this, ecommerce analytics can help you forecast and plan inventory for the upcoming period.
Cross-sell and up-sell to existing customers
Companies often underestimate the power of cross-selling and up-selling to customers. As reported by Forbes, it can cost five times more to attract a new customer than it does to retain an existing one. On top of that, 65% of a company's business comes from existing customers,  so using ecommerce data for a retargeting strategy can be a gold mine.
Gather user behavior data
In ecommerce, one size fits none. Epsilon research shows that 80% of consumers are more likely to make a purchase when brands offer a personalized experience, and 90% indicate that they find personalization appealing. In this new world, personalization is far more than simply tailoring assortments. Using ecommerce analytics, you will be able to predict the needs of individual consumers and make relevant product recommendations.
Engaging user experience
In every product portfolio there are "zeros" and "heroes"—and that's fine. Ignoring that fact is what's not okay. That's why ecommerce analytics is far more than just numbers. Use the data to analyze what are your bestsellers, and what are the products that don't sell. You can always dig deeper and find out the reason why some products stay forever on your virtual shelf and take advantage of the insights you gather to optimize your product portfolio.
Maximize return on ad spend (ROAS)
Using ecommerce analytics can help you find out if you have a leaky bucket and what you can do to maximize ad spends. Instead of wasting money on ads that don't work, you can focus on the right ads to the right target audience.
Satisfied customers
Customers stick to companies that treat them like people and not like numbers. The ultimate goal of ecommerce analytics is gathering data to understand customers and optimize products and processes to meet and exceed customers' expectations.
Ecommerce analytics best practices
The good news is that there is a smarter and easier way to consolidate all this data without wasting hours. Thanks to pre-built data connectors, you can pull data from any source directly into Google Sheets, Excel, or Google Data Studio. That way, instead of spending hours on consolidating data and shuffling between platforms and reports, you can focus on analyzing your marketing data.
With smart ecommerce analytics tracking, you will be able to break down data silos and boost productivity, efficiency, and business agility.
Understand the numbers and the customers
Timely actions are the key to ecommerce success. By using rule-based alerts when a specific product/category/campaign is performing well, or inventory is running low, you can react accordingly. As a result, you'll be able to double down on things that are working well and eliminate campaigns that are not bringing you the results you were after. With custom alerts sent directly to your inbox, you'll know when is the right time to act.
Automate ecommerce dashboards
Once you have all the data in place, it's time for automation. Instead of pulling manual reports, you can set your reports to refresh automatically while you focus on data analysis and providing value for the consumers. Besides saving you time and energy, automation minimizes any room for mistakes. This will help you create a data-driven culture, where you reduce reporting time and focus on the analysis and insights.
Share analytics for streamlined communication between team members
Creating a competitive customer experience means incorporating ecommerce analytics throughout the customer lifecycle. These insights will provide direction to optimize consumer experiences across discovery, acquisition, conversion, retention, and advocacy.
Ready to gather all your marketing metrics in one place and simplify ecommerce analytics?
Start your free 14-day trial of Supermetrics.
Of all the available tactics to grow a business, ecommerce analytics is taking the lead. About three out of every four marketing leaders base decisions on data analytics. Yet, most companies still do not have access to quantitative metrics to prove the value of their marketing spend.
What's driving the trend is lack of understanding of data analysis. Some 66% of marketers agree that ecommerce analytics is important, but over half have teams with subpar skill sets.
This guide will get you comfortable with the language of analytics and help you start tracking the right ecommerce metrics. That way, you can understand customers' actions, better serve them, and increase sales.
Marketers use analytics to show return on investment (ROI) for campaigns and make better decisions to increase sales, reduce costs, and make business improvements.
Ecommerce analytics helps centralize and manage data. Siva K. Balasubramanian, Associate Dean and Professor of Marketing at Illinois Tech's Stuart School of Business, explains that the onset of multiple data sources to gather and merge data about customers, products, and markets is a common problem for today's businesses. They struggle to productively analyze the datasets available to them.
"Marketing analytics offers useful techniques to handle this problem by organizing data to develop metrics that are most useful for continuously monitoring business performance," Balasubramanian says. "The focus of analytics is on issues that matter most to the business, and the performance metrics are helpful in identifying and solving problems in real time."
Analytics are as much about art as they are about science. A good data analyst can tell you a story from the thousands of clicks, visits, bounces, seconds spent, conversions, and other data points they observe.
Data points can tell you a story about the total number of visitors to your site in a given week. For example, maybe only 50% enjoyed your website enough to even spend more than a few seconds on it. And maybe only half of those who stayed actually made a purchase, while another 10% got stuck at the checkout page, became frustrated, and left.
That's the story of a group of individuals who took very different actions on your online store. This knowledge can help put you ahead of your competition. But it also can leave you with new questions. Is 50% good or bad? How many seconds (or minutes) is considered a good amount of time for a customer to spend on a site? How many of the people who do stay should I expect to buy sometime? How do I find out why the others aren't buying?
Marketing analytics can help you zero in on your target audience because you can get valuable information on your clients' lifestyles, as well as their purchasing behavior.
Until you know the whole story, you can't change the ending. Once you understand why visitors to your site behave the way they do, you can do something about it. But the answers to the above questions depend on context and will differ vastly depending on the type, size, industry, and stage of your company.
Ecommerce Analytics for Beginners
Find out which metrics are the key to establishing and growing your online business. This free guide is the perfect first step in learning about ecommerce analytics.
Get Ecommerce Analytics for Beginners delivered right to your inbox.
Almost there: please enter your email below to gain instant access.
Why ecommerce analytics are important
Now that we know what marketing analytics are, let's look at the most important reasons why an ecommerce business should leverage analytics.
Understand marketing data
A good marketing analytics software keeps all your data in one place. You can keep tabs on all your campaigns, from social ads to emails to marketing automations. You can also see real-time stats, so you can know what's working quickly and make better decisions about where to put your marketing dollars.
Craig Hewitt, CEO of podcast analytics software Castos, feels that analytics solves the problem of not knowing how to use marketing data to drive business growth. "Marketers often have a lot of data about their customers, but struggle to use it effectively. Without the insights offered by ecommerce analytics, they'll struggle to create a marketing strategy that brings consistent results."
Analytics help you measure marketing performance and improve decision making, so you can become a more strategic business.
Marketing intelligence allows you to be predictive and prescriptive and to change the course of your tactics also as they are rolling out of the marketing plan.
Uncover trends
Modern ecommerce analytics platforms treat your data as an interconnected system, allowing you to uncover trends and patterns in your business. It gives you the ability to understand how your business is performing now and in the future.
To condense data and make it visible in a little time as possible, you can rely on marketing analytics to show:
The number of visitors to your website by referrals and marketing campaigns
The actions visitors take on your website over specific periods of time
Most-visited pages during busy shopping seasons
What devices people visit your store on
Consumer preferences have changed. Market trends are always shifting. To keep up, we need to pay close attention to them. Forecasting the future and building the right marketing mix will be difficult without studying real-time data.
Use customer data
The beauty of marketing analytics is that brands can collect, manage, and use customer data. Customers can take certain actions in your store and your marketing analytics will pick up each interaction. Without proper marketing analytics and reporting, you can't figure out who is on your site.
Growth, engagement, and revenue reports help you understand customer behaviors. You can easily find out who interacted with your content and if they clicked, bought, or downloaded something, so you can create content that resonates with them.
"Marketing analytics can help brands reach the right audience at the right time with the right message," Craig explains. "By focusing on data points and using marketing analytics tools, teams can garner insight into their ideal prospects to optimize their messaging. By creating more relevant content that will generate more engagement, brands can address their audience's needs faster and better than their competition."
Optimize pricing
How you price products is the most powerful lever to improve profitability. Research shows that price management initiatives can increase a company's margins by 2% to 7% in 12 months, yielding an ROI between 200% and 350%.
For every product, you should have an optimal price customers are willing to pay. With marketing analytics, you can better understand how price affects purchasing amongst different customer segments. It will help you discover the best price points at a product level, so you can maximize revenue.