Start selling today
$39.99 a month + selling fees
Go to Top
Get 5% back on up to $1,000,000 in branded sales.See how
Select your preferred language
Thanks for the feedback!
Your feedback helps us continually improve our website experience.
Electronic
commerce (eCommerce) refers to the buying and selling of goods, services, and products over
the Internet. E-commerce is now one of the fastest-growing trading markets
around the world.
There are 6 basic types of eCommerce business models, including, B2B, B2C, C2C, C2B, B2A, and C2A.
What is E-Commerce?
Electronic
commerce or eCommerce is a system of buying and selling goods, services, and
products by using the Internet and transferring money and data to carry out
these transactions.
E-commerce
is often used to refer to the sale of products and goods on the Internet, but
it can describe any type of business transaction that can be used online to
make it easier for customers to save time and money.
Since the
beginning of the nineties, the concept of e-commerce has spread around the
world. E-commerce has provided many advantages for businessmen and owners of
large companies who want to offer their goods and products for sale or purchase
in all countries on the Internet.
E-Commerce
supports sales and customer service operations. There are many sites that work
in the field of e-commerce.
There are
some basic features of E-commerce that you must know in order to provide you
with many questions when deciding to create a website that works on electronic
commerce, namely:
E-commerce
has the ability to access the global market through the Internet without the
need for large financial investments.
It allows
suppliers to be closer to their customers, which leads to increased
productivity and competitiveness of companies.
It provides
you with the information you need and necessary for each product, and you can
also compare it to another product from any other website.
It saves
effort and time for consumers and eases the buying and selling processes in a
successful electronic way.
It offers
more efficient pre- and post-sale support with these new and varied types of
e-commerce.
What are the 6 Types of E-Commerce Business Models?
There are
many ways to promote and publish goods and products on the Internet. E-commerce
is divided into 6 main sections, namely:
E-commerce
is divided into 6 basic types, namely:
Let's see the 6 different types of eCommerce business models in detail:
Business to Business (B2B)
Business-to-business
(B2B) is a form of transaction between businesses. Business-to-business (B2B)
marketing is the marketing of products between two businesses, rather than
between a company and individual consumers, such as one involving a
manufacturer and wholesaler, or a wholesaler and a retailer.
(B2B)
Business to Business is an electronic trade exchange between a company and
another company. It depends on the marketing relations between the two
companies, such as when the company presents its products to the other company,
and they exchange marketing and trade between them, to provide more
opportunities for them to sell using E-commerce.
Business-to-Consumer (B2C)
B2C
e-commerce is based on e-commerce between companies and consumers, and it is
compatible with the retail department of E-commerce.
B2C
marketing is one of the easiest and most profitable types, and this type
develops greatly due to the increased use of the Internet all over the world,
and it contains many types of consumer goods, such as: (computers, programs,
books, shoes, cars, foods) and all kinds of electronic devices and others.
Customer to Customer (C2C)
Customer to
customer (C2C) is a business model that provides an innovative way to allow
customers to interact with each other. C2C marketing facilitates commerce
between private individuals, typically in an online environment.
This type of
e-commerce works on all electronic transactions for goods and services that
take place between consumers in general. These transactions are carried out by
another party, which provides the online platform, where the transactions are
actually executed.
Consumer-to-Business (C2B)
This type of
e-commerce depends on the consumer, as he sells his own products or services to
an institution that carefully searches for these types of services and
products.
C2B)
e-commerce is trendy in projects, through which young people work freelance and
benefit from this type well.
B2A
e-commerce involves many services, particularly in areas such as social
security, employment and legal documents and provides an online service for
companies, the public sector, the government, generally through a website.
B2A services
have increased significantly in recent years with investments in E-government.
C2A
e-commerce provides a direct communication link between consumers and
governments (e.g. local authority).
The examples
of C2A e-commerce include:
Social
Security: The distribution of information, making payments, etc.
Education:
distance learning, disseminating information, etc.
Health: 
information about illnesses, appointments, payment of health services, etc.
Taxes: 
filing tax returns, payments, etc.
In Business
to Government (B2G) e-commerce, the trade companies allocate their business and
service only to government departments and institutions and not to individuals
or other commercial companies, such as the government's agreement with one of
the e-shop creation platforms to implement a site for government ministries.
Government
to Business (G2B e-commerce is done through online payment companies and
websites, where when an individual or institution makes online payments to
government institutions, these payment companies earn a percentage of the money
and thus the G2B is traded.
One of the
most popular forms of this trade are companies that provide special payments for
government transactions and fees such as taxes.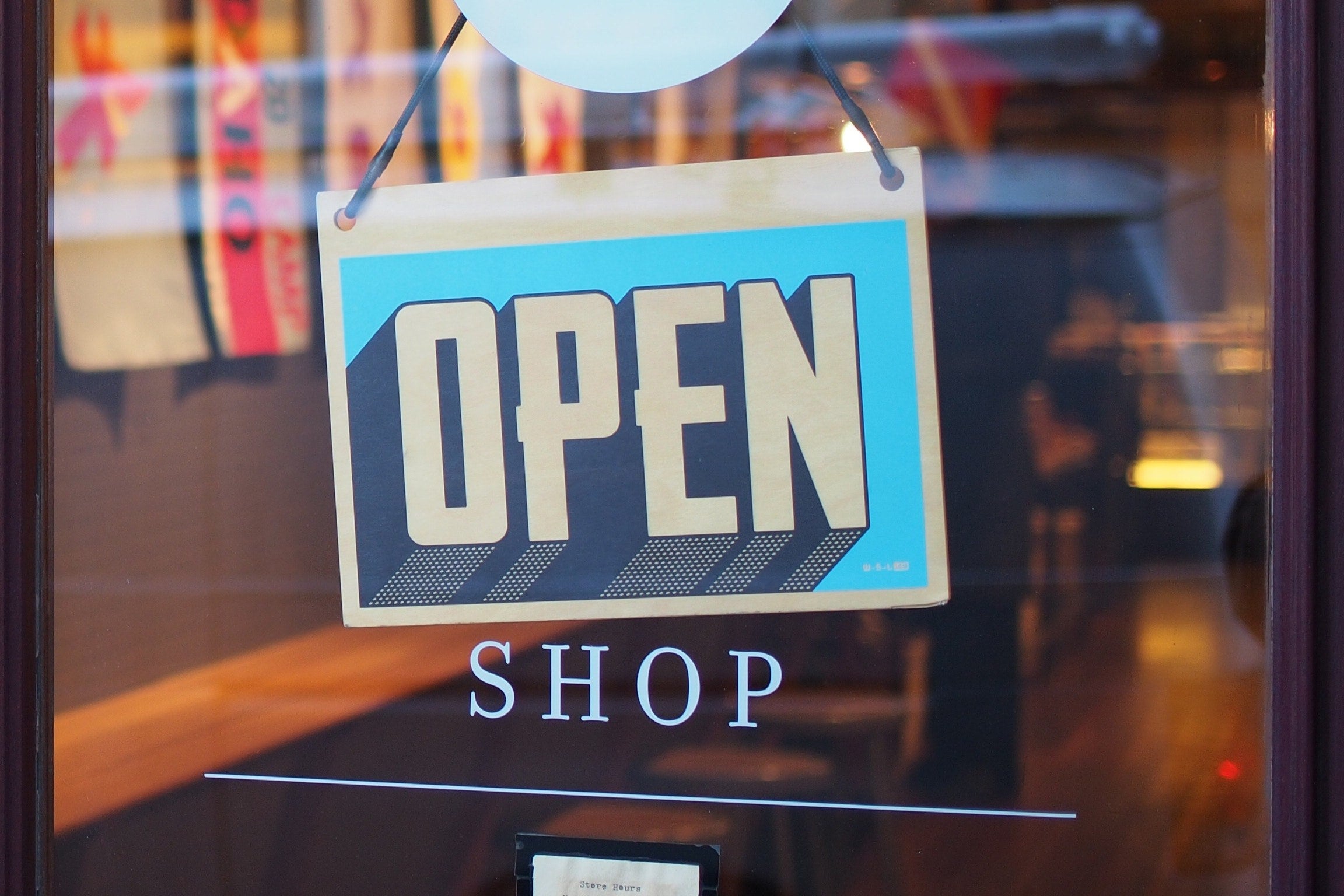 So, no matter if you run a simple, single category store, or you want to create an Amazon-like giant, there's still room for businesses like that online. It only takes a unique approach of presenting yourself to your future customers. Design is a way to establish your business and truly make a difference.
What is e-commerce, m-commerce and omnichannel?
Talking about digital retail, we can use terms like e-commerce, m-commerce or omnichannel. E-commerce is simply selling goods online, using a dedicated website and online payments. E-commerce may use Responsive Web Design (RWD) to make content easily adjustable for both desktops and mobile devices.
Omnichannel is a perfect strategy if you run a physical store and want to establish an online presence. It means that your strategy, messaging, and products are the same at your brick-and-mortar, web store, and mobile app.
Which one is best for you?
Now, without any further ado, let's compare different types of e-commerce and UX/UI design patterns you can use with each one of them:
Single product
Single product e-commerce websites are aimed to sell one product. Simple, right? They are intended to make your offer clear and present it with the full power of design and marketing copywriting focused on that single product. Hence, single product stores often have a large hero image of the offering and a fixed add-to-cart button.
Young companies with a single product prefer this type of website, often meant to be promoted on crowdfunding platforms like Kickstarter.
Revols' website is a single product e-commerce example.
Single brand
After your Kickstarter campaign, using a single product website has succeeded, you can expand your offerings. Then, you may need a single brand e-commerce store, providing multiple types of products.
Now you may need a menu with products, shopping cart button and log-in button. The big, full-screen header is often used, but it now presents more elements and incentives to buy. It may also consist of above the fold element, showing customers that there's more information after the scroll.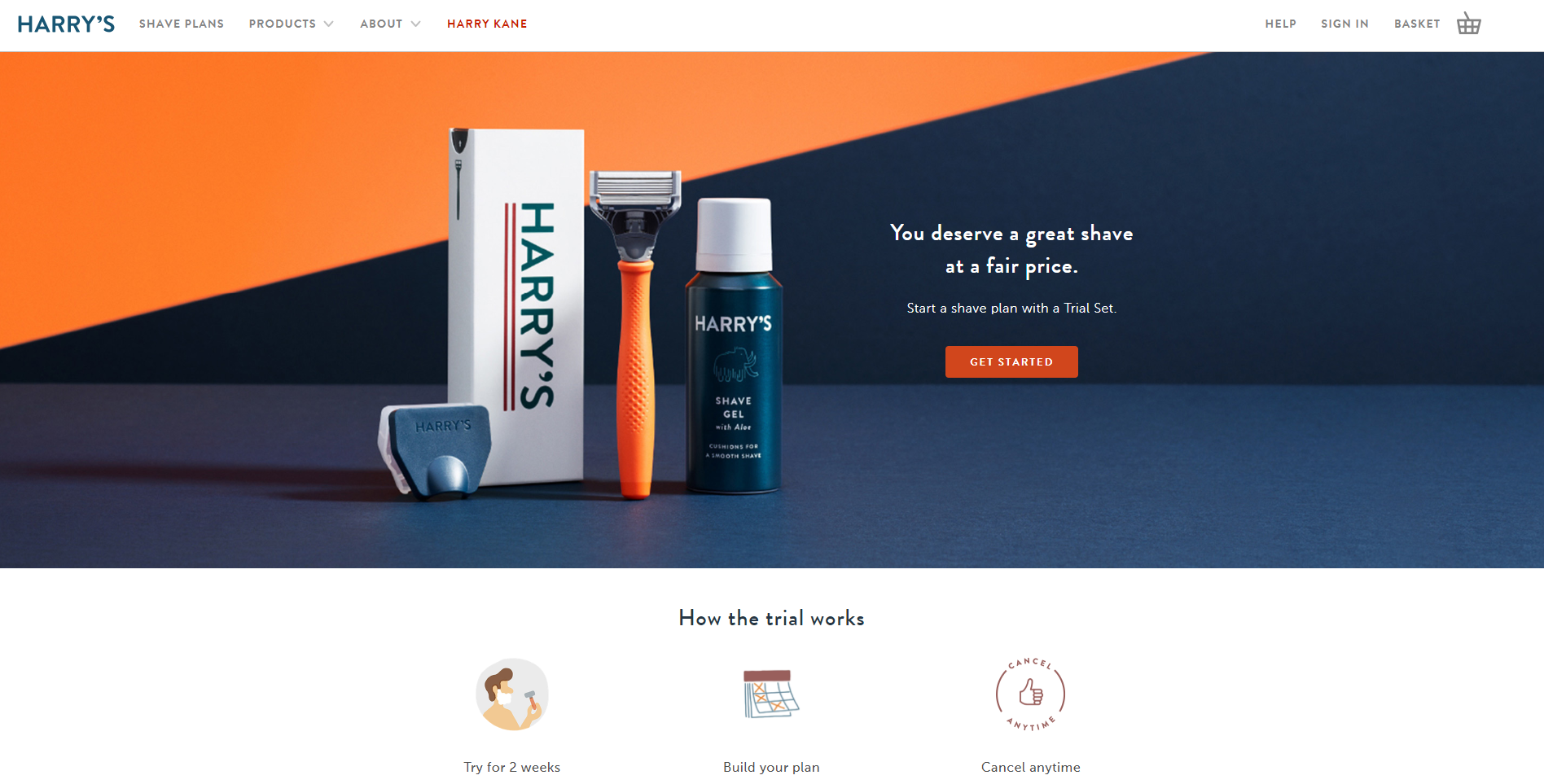 An example of a single brand e-commerce, Harry's.
Single category
Single category e-commerce is a good way for sales broker companies to test waters with multiple products from the same category. Take shoes as an example. You don't have to start another Nike company to sell shoes online, but you can select several brands and offer their products on your website.
With a focus on a single category, it will be easier for you to get your message across, win customers' hearts with your selection of products, and then expand to other products or subcategories, like laces or shoe-care products.
Speaking about the design, the menu is much richer here, as you can add more elements like categories, subcategories, shipping information, log-in and cart buttons, sliders, etc.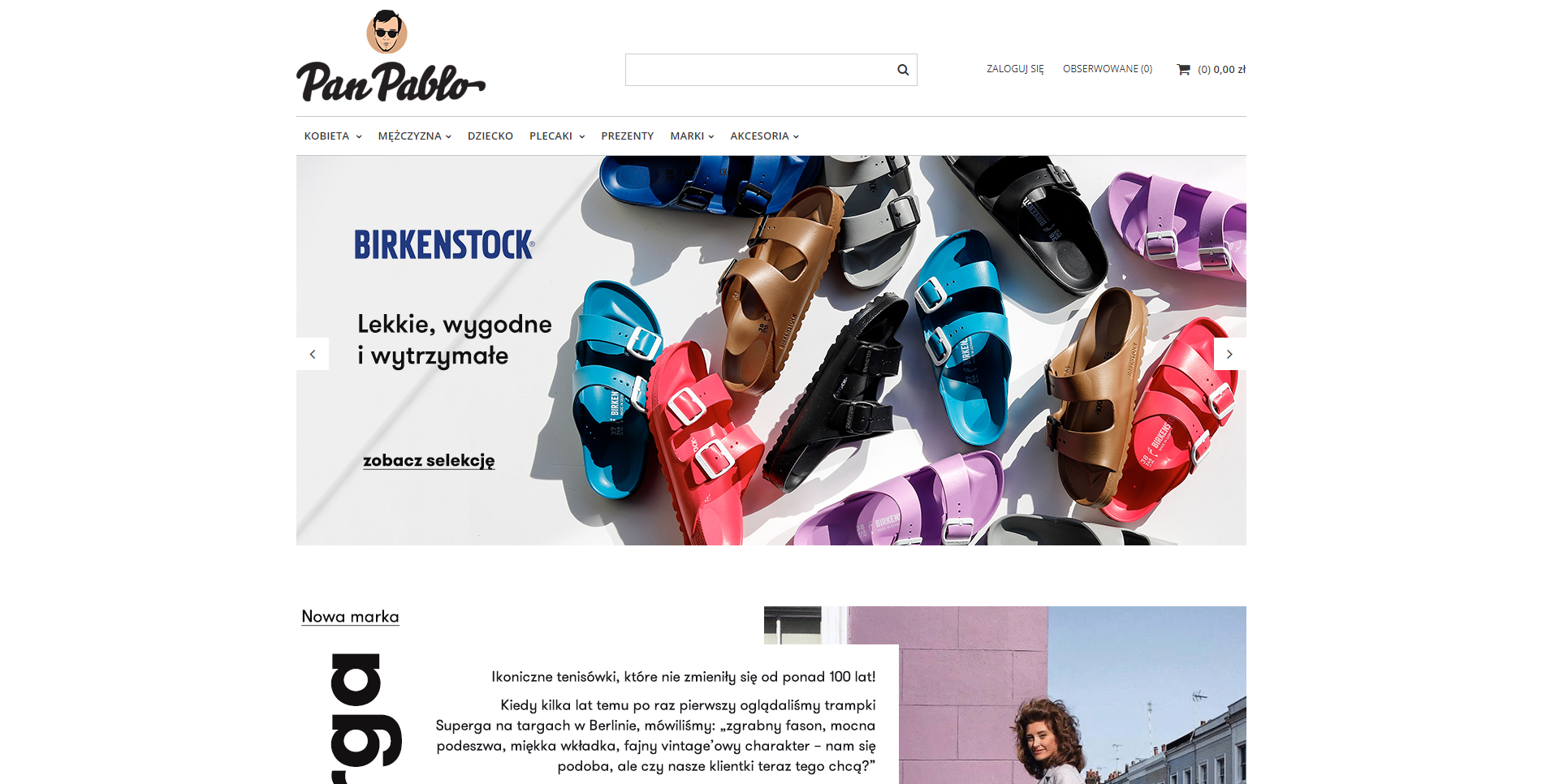 Online shoes stores like Pan Pablo are en example of single category stores.
Multi-category
The biggest possible version of the e-commerce store, covering multiple products from several categories and brands. The sky is the limit with this one – just think of the giants like Amazon or Alibaba. On multi-category websites, you can sell virtually anything.
This type of e-commerce website also has a longer path from entering the store, through researching the categories and products, to add-to-cart action.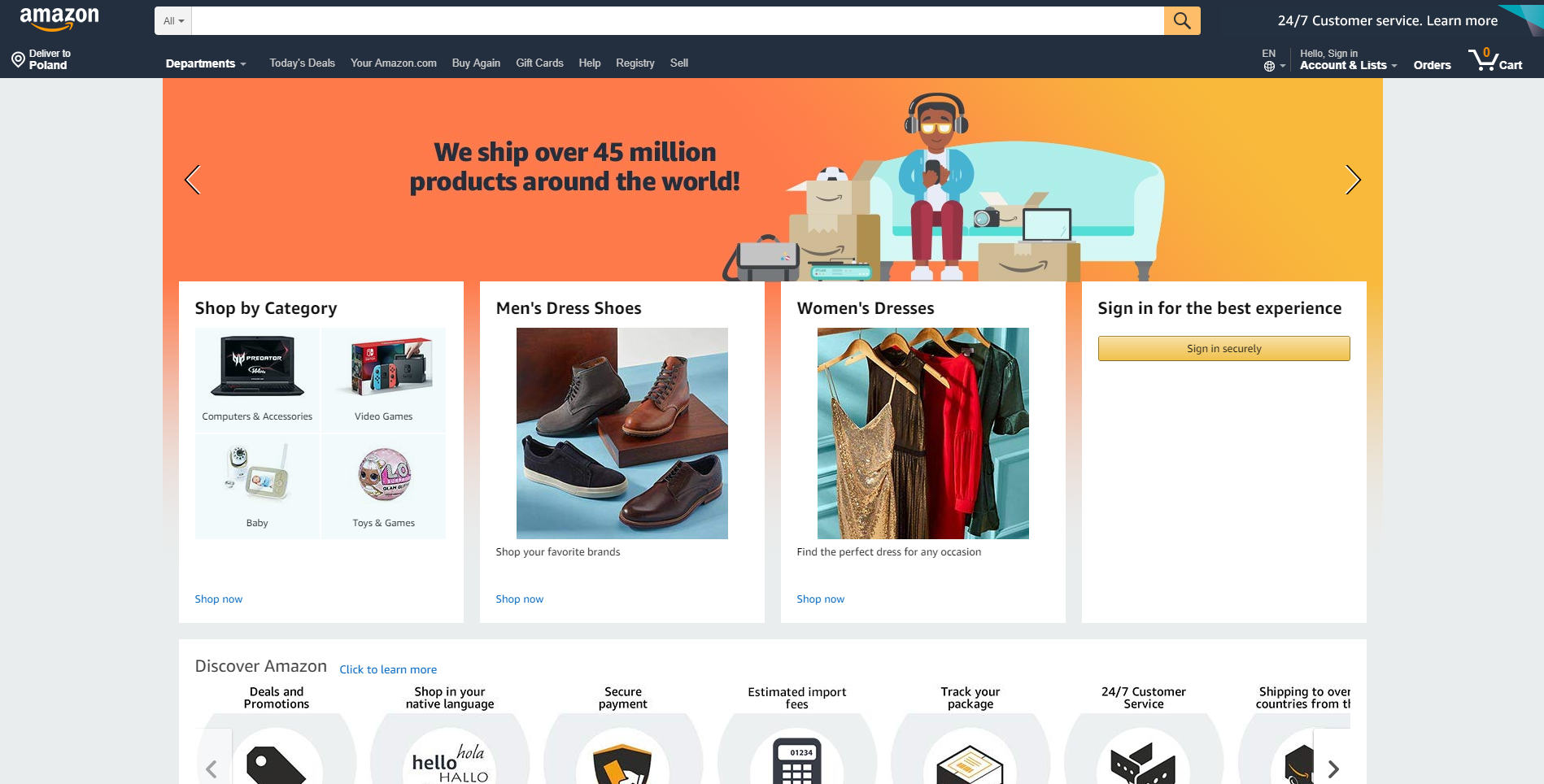 Amazon is a great example of multi-category e-commerce website.
Which way suits you best?
If you have trouble establishing your needs – give us a call. Our team is waiting for your turn.
Head of UI
LinkedInAll articles by Wojtek
Read more articles
UX does not have to be serious or boring. UX can be gripping, exciting and witty. Download free hires movie inspired UX posters or buy prints.
Designing Online Store
High-quality, reliable products and ecommerce services are at the heart of successful online brands. Your product should solve an unmet customer need or challenge. You must also offer it at a compelling price point.
Product quality and pricing can make or break your ecommerce business. Do some market research to get a sense of what types of products your competitors are selling, as well as the market value of similar items.
A compelling brand story
Unique brands stand out, but a great brand takes more than a great product. To catch a customer's attention, convey your business's purpose and vision.
Ask yourself, why does your business need to exist? How will the products make your customers' lives better? Your branding should convey the answers to these questions.
Spend time thinking about the look and feel of your brand. Dig deep and find a simple, powerful way to convey the origin and mission of your business.
Did you know?
A+ content helps businesses showcase their brand story and product features using rich text and images on the Amazon detail page to help drive conversion, and potentially increase traffic and sales.
A focus on the customer
Define your ideal audience to help attract loyal and enthusiastic customers. Who do you want to serve with the products? Direct your marketing efforts accordingly.
Once your business gains steam, keep the momentum going by considering who will be moved by your brand story. Instead of chasing after buyers who don't need what you're selling, focus your efforts on an audience that will appreciate your brand.
A smooth online experience
Amazon's game-changing 1-Click ordering simplifies the online shopping experience, making it easier for customers to buy products. Amazon securely stores the credit card information and shipping preferences of customers. This process minimizes the number of decisions a customer must make on their path to check out.
Timely order fulfillment
Customers want speed and efficiency, especially when shopping online. No matter what you sell, customers want purchases delivered intact and on time.
Fulfillment is the process of getting products to customers. It can include sourcing products, storing and packaging orders, handling returns, and maintaining customer communication. Successful ecommerce shops pay careful attention to the fulfillment process and make sure they have enough product on hand to fulfill their orders, even during their busiest seasons.
How New Republic grew their ecommerce business with Amazon
Dee Murphy, co-founder of the fashion brand New Republic, built upon his success by bringing his brand to the Amazon store.
"When we launched on Amazon, I had expectations that Amazon would be about 10% to 20% of our total business. Within the first six months, it was 50%," says Dee. "It just exploded. And it really changed the way I thought about the future of our business."
The team had some help from Amazon account managers, too. "I don't think we would've gotten to this point this quickly if it wasn't for our Amazon team," adds Dee.
What is ecommerce? Launch and grow an online sales channel
«Ecommerce» or «electronic commerce» is the trading of goods and services on the internet. It is your bustling city center or brick-and-mortar shop translated into zeroes and ones on the internet superhighway. An estimated 2.14 billion people worldwide buy goods and services online, and the number of Prime members shopping Amazon stores globally now tops 200 million.
Ecommerce is one way people buy and sell things in retail. Some companies sell products online only, while other sellers use ecommerce as a part of a broader strategy that includes physical stores and other distribution channels. Either way, ecommerce allows startups, small businesses, and large companies to sell products at scale and reach customers across the world.
What is an ecommerce website?
An ecommerce website is your digital storefront on the internet. It facilitates the transaction between a buyer and seller. It is the virtual space where you showcase products, and online customers make selections. Your website acts as the product shelves, sales staff, and cash register of your online business channel.
Businesses might create a branded store experience on a store like Amazon, build their own commerce site on a dedicated domain, or do it all for a multi-channel approach.
What is an ecommerce business?
An ecommerce business is a company that generates revenue from selling products or services online. For example, an ecommerce company might sell software, apparel, housewares, or web design services. You can run an ecommerce business from a single website or through multiple online channels like social media and email.
How does ecommerce work?
Ecommerce works by connecting buyers and sellers using various electronic channels. For example, you need a channel, such as a website or social media, so customers can find products and services to purchase. Then a payment processor enables the exchange of the goods or services. Once the transaction succeeds, the customer receives a confirmation email or SMS, and a printable receipt.
If the transaction is for goods, then the seller ships the items and sends the customer a tracking number via email or SMS. If the transaction is for a service, then the service provider can reach out to schedule and complete the service.
Steps to starting an ecommerce business
The steps to starting an ecommerce business can vary depending on factors like what you want to sell. For example, if you're selling services, then there's no need to manage inventory or fulfillment. However, if you want to sell products online, then inventory and fulfillment will likely play a critical part in your operations.
Launch in ecommerce and grow your online business
Have an ecommerce idea? Learn how you can go from thinking about an online store to launching your business on Amazon. Get access to more than 300 million customers worldwide, including 200 million Amazon Prime members who like to shop on Amazon. (source)
Get answers to the frequently asked questions about ecommerce
What is ecommerce?
Ecommerce is a method of buying and selling goods and services online. The definition of ecommerce business can also include tactics like affiliate marketing. You can use ecommerce channels such as your own website, an established selling website like Amazon, or social media to drive online sales. Some ecommerce businesses operate on a 100% digital basis, while others use ecommerce to complement a brick-and-mortar store or grow established brands.
What is an ecommerce business?
An ecommerce business uses digital methods to sell products and services to customers. Ecommerce businesses can be online-only or have a physical presence as well. Selling to customers online typically requires a website or digital storefront, plus a way to process payments digitally and ship orders to customers.
What is ecommerce marketing?
What time are people shopping the most online?
Statistically, the biggest spikes in online purchasing occur early on Mondays and Thursdays, between 8 p.m-9p.m. Sales spikes can also coincide with seasonal sales and holidays, such as Prime Day. Thanksgiving and Cyber Monday in 2022 was the biggest shopping weekend ever, with customers purchasing hundreds of millions of products worldwide and generating more than $1 billion in sales for small businesses in the U.S. (source)
How many purchases are made online each year?
An estimated 2.14 billion people worldwide buy goods and services online, and ecommerce sales have been growing steadily. For perspective, the percentage of retail sales made online in 2018 was around 9.4% percent. As of 2022, an estimated 14.3% of total retail sales were digital (source). In 2021, U.S. sellers in the Amazon store sold more than 3.9 billion products. That's an average of 7,500 every minute, with about $200,000 in sales per seller (source).
Is ecommerce still growing?
Yes, ecommerce saw a 32% surge in 2020, and online sales are expected to surpass $6 trillion worldwide in 2023, making up 22% of total retail sales (source). In 2021, more than 100,000 U.S. brands joined Amazon's store, and existing brands saw 25% growth in sales over the previous year (source).
Where and how does ecommerce take place?
Online shopping evolves and shifts daily. People shop from their computers, phones, tablets, and other devices. They patronize websites, visit social media pages, and participate in thriving virtual channels. Here's an overview of three distinct methods of conducting ecommerce today.
Online transactions that take place on mobile devices are known as mobile commerce or "m-commerce." With portable devices in the hands of consumers worldwide, it's no wonder m-commerce is anticipated to account for over 43% of total retail ecommerce sales in 2023 (up almost two percent from 2022).
Many people now do their product research and online purchasing through their phones. This trend shows no signs of slowing, so it's essential to optimize your online store for mobile.
Enterprise ecommerce
Enterprise ecommerce is the buying and selling of products to large companies or organizations. If a large business sells many different types of products or has multiple brand lines and transitions into selling online, then it is participating in enterprise ecommerce.
Social media ecommerce
Social media can help you market and promote ecommerce stores to a broad audience. Just as social media enables you to connect with friends and family, it also has the potential to attract customers to your business. Done well, social media marketing engages customers in an informal setting.
Social media can help you:
What are the types of ecommerce?
Ecommerce takes as many different forms as there are various ways to shop online channels. A few common business models that shape the world of ecommerce are:
What are the advantages and disadvantages of ecommerce?
Like any sales method, ecommerce can have upsides and downsides. Is ecommerce right for you? It'll depend on your business goals, your intended audience, and other factors. Here are some considerations.
Benefits of ecommerce
Conducting sales online has some significant advantages. Among the top benefits, ecommerce:
All of these points offer strong incentives to participate in ecommerce. Let's explore each in detail.
Rapid growth
In 2021, U.S. small- and medium-sized businesses selling in the Amazon store exported over 225 million products and international sales reached a whopping $2 billion. Amazon shoppers purchased 3.9 billion products, roughly 7,500 items per minute. (source)
Global marketing reach
In the past, a business's reach was limited by the number of people able to physically enter through a store's front doors. Today, ecommerce allows you to reach customers across the world. The rise in internet usage and the growth of social media have made it easier for ecommerce business owners to reach a diverse new mix of customers.
Amazon Advertising helps grow businesses and brands of all sizes get products in front of over 200 million Amazon Prime global members that shop on Amazon. (source)
Ease of ordering products
With all the different types of ecommerce, customers can browse options and make purchases from anywhere with just a few clicks. Amazon makes it easy to sort and compare products by price or features. Online payment innovations like Amazon Pay further streamline the checkout process.
Lower operating costs
Creating and maintaining a website is less expensive than running a traditional brick-and-mortar store. You can start an ecommerce business channel without leasing retail space, hiring a team of employees, or having a large warehouse.
All of these advantages add up to low overhead. You don't need to pay rent or worry about building maintenance. Once online, your store is open 24 hours a day—without the need to be monitored or staffed like a physical store.
You can use website building tools and services to establish your own ecommerce store quickly, or you can forgo building a website and launch your brand on social media or a store like Amazon. Many businesses sell on numerous online channels.
Because of the internet, ecommerce brands can directly build relationships with their audiences. You don't need to pay for a giant billboard or TV ad campaign to capture your audience's attention. You can tailor your brand and marketing to fit customer wants and needs down to special offers and personalized product recommendations.
Challenges of ecommerce
Some businesses may try to avoid ecommerce due to challenges like:
Let's walk through each of these potential pitfalls.
Limited face-to-face interaction
Face-to-face interaction is necessary for some businesses and transactions. Depending on your product, service, or sales style, it may be challenging to bring the full force of your personality into an online space.
While there is no magic solution, keeping your brand story at the fore of all you do can help you maintain authenticity online. Alternatively, if you prefer communicating with customers via email or phone, this drawback might be a huge plus!
Technical difficulties
Challenges related to technology can negatively impact sales. Just as a hiccup in your supply chain can prevent timely delivery of products, internet issues, or a hard drive failure can cost you time and money.
Remember, for every technical issue that may arise, there's likely a solution or a preventative measure you can take. Be sure to back up your data regularly. Using a store like Amazon can help mitigate these risks with an established, trusted technical infrastructure.
Data security concerns
Amazon has worked for decades to create a secure shopping experience, and businesses that sell on Amazon benefit from long-standing customer trust. When you host an ecommerce store on your own domain, you need to find a secure payment processing service and take reasonable measures to avoid putting customer data at risk.
Shipping and fulfillment at scale
It may be easy to pack and ship orders from your garage or spare room when you're starting out in ecommerce. But as your business grows, order fulfillment becomes a much more time-consuming process. Sudden increases in orders can leave you scrambling to fulfill orders. Using a service like Fulfillment by Amazon can help reduce the strain on your business and keep customers satisfied.
Learn how to choose the right ecommerce fulfillment service to grow your business.
Amazon's automated protections continuously scan our stores and proactively remove suspected counterfeits. Amazon Project Zero leverages the combined strengths of Amazon and brands to drive counterfeits to zero.
WHAT IS E-COMMERCE ?
Electronic Commerce commonly known as E-commerce or e-Commerce which denotes different types of transactions involved in commercial activities. It contains both organisational as well as individual activities which include the processing and transmission of digitized data such as text, pictures, sound and video, etc.
E-commerce has developed a new environment with the help of Internet in business transactions and processing. Here information is provided direct to the consumers about the products they want to buy and the platform is set for product advertisements. It also permits negotiations, order for raw materials, settlement of financial transactions etc.
1) Communication Services :
Electronic transfer of information from buyer to seller is supported by communication services.
2) Data Management :
It is exchange and storing of data in a constant, format which enable easy exchange of information.
3) Security Mechanisms :
E-commerce covers many services over the Internet for example, customer service, banking, billing, marketing, retailing, secure distribution of data, corporate sector purchasing and other value-added services.
Meaning and Definition of E-commerce
The term e-commerce (Electronic Commerce) refers to all types of business operations and transactions that are executed through Internet and other electronic technologies.
«E-commerce is a virtual business environment in which information moves electronically via Internet related to buying, selling, transportation of goods and services».
According to P.T. Joseph :
«E-Commerce comprises core business processes of buying and selling, goods, services and information over the internet».
According to Kalakota and Whinston :
1) Communications Perspective :
Electronic commerce is the delivery of information, products/services, or payments via telephone lines, computer networks, or any other means.
2) Business Process Perspective :
Electronic commerce is the application of technology toward the automation of business transactions and workflows.
3) Service Perspective :
Electronic commerce is a tool that addresses the desire of firms, consumers, and management to cut service costs while improving the quality of goods and increasing the speed of service delivery.
4) Online Perspective :
Electronic commerce provides the capability of buying and selling products and information on the Internet and other online services.»
Important Topics in Marketing Management :
Much of the world's business today is carried out over digital networks that connect people and companies. Several types of e-commerce models are in use today. The major online marketing domains are given below :
1) B2C (Business to Consumer) :
In B2C model of e-commerce, businesses sell products and services to individual consumers directly. All the products and services are offered online through electronic channels in e-commerce which supplements the traditional commerce. Internet acts as an electronic channel.
i) Provides better way to deal with suppliers
ii) Provides customer service centres that are physically located
iii) Provides opportunity to return purchase item
2) B2B (Business to Business) :
Business-to Business (B2B) e-commerce model describes electronic transactions between businesses such as between manufacturer and wholesaler. The major factors in increasing the acceptance of B2B e-commerce are Internet and dependence of many business operations upon other businesses for supplying raw materials, utilities and services. It is very fast developing segment in e-commerce. Company can check and updates purchase orders, invoices, inventory and shipping status directly through the Internet.
i)Reduces cycle tine of inventory and costs.
iii) Improves supply-chain management among business partners.
iv) Eliminates manual activities and hence
3) C2C (Consumer to Consumer) :
Consumer-to-Consumer (C2C) e-commerce is a business model that facilitates the transactions of product and services between two consumers. In this e-commerce model, consumers sell product and services directly to other consumers using Internet and Web technologies. An individual customer uses classified advertisements to advertise or promote different products and services on web or through online auction sites.
e-Commerce Examples : eBay.com, quicker.com, craigslist.org, gittigidiyor.com. It entails lower cost for both buyer and seller customers. Using this e-commerce model, customers can also advertise and sell their products and services to other employees over organizational Intranet.
4) C2B (Consumer to Business) :
Consumer-to Business (C2B) is an e-commerce model where consumers (individuals) sell products and services which are consumed by businesses and organisations. This model is opposite to B2C model. In this model, price and value for specific products and services are created by individuals.
For example : when a customer writes reviews for new product or gives a useful idea for new product development then he/she is creating value for the company if the company adopts the review or idea. Company can facilitate C2B model by setting discussions forums on their
5) Business-to-Government (B2G) :
In marketing context, B2G marketing is also known as "public sector marketing». It is derived from B2B marketing and is comprised of activities such as marketing of products and services to government agencies. Such marketing is undertaken via various integrated marketing techniques like advertising, branding, managing public relations, online communication strategies, etc.
Features of E-commerce
1) Ubiquity :
E-commerce is widespread, that is, it is available everywhere always. It sets free market from being restricted to a physical space and makes it possible to shop from computer (such as desktop, laptop). The result is called a market space.
For consumers, ubiquity cuts transaction costs for exploring products in a market. Consumers can acquire any information whenever and wherever they want, regardless of their location. It is no longer necessary that buyer spend time and money for traveling to a market. In all, it saves the cognitive energy needed to transect in a market space.
2) Global Reach :
E-commerce technologies enable a business to easily reach across geographic boundaries around the earth far more conveniently and effectively as compared to traditional commerce. Globally, companies are acquiring greater profits and business results by expanding their business with e-commerce solutions. As a result, the potential market size for e-commerce merchants is approximately equal to size of online population.
3) Universal Standards :
4) Interactivity :
E-commerce technologies permits two-way communication between customer and sellers which makes it interactive. It proves as significant feature of e-commerce technology over the commercial traditional technologies of the 20th century.
5) Information Density :
Information density means total amount and quality of information available over Internet to all market buyers and sellers. Internet vastly increases information density. Information density offers better quality information to consumer and merchants. E-commerce technologies increase accuracy and timeliness of information. For example, flipkart.com store has variety of products with prices.
6) Richness :
Richness refers to the complexity and content of a message. Richness means all commercial activity and experience, conducted through a variety of messages. For example, text, pictures, videos, sound, links, SMS (Short Message Services) etc.
7) Personalisation :
Advantages of E-Commerce
The advantages/benefits of e-commerce can be divided into two categories :
A) Advantages to Customers —
1) Reduced Prices :
The products available on websites have reduced prices because the different stages of value chain are decreased between source and destination. The intermediaries such as retail store are eliminated by the company and they sell their products to consumer directly instead of distributing through intermediaries.
2) Global Marketplace :
E-commerce provides global marketplace from where consumers can purchase products according to their needs situated anywhere in the world.
According to World Trade Organization (WTO), «there are no custom duties put on products bought and traded globally electronically».
Global Marketplace also provides large collection of products and services to consumers With their prices.
3) Anytime Access :
Online businesses are open 24 hours, 7 day a week and 365 days in a year and never sleep. Consumers can do transactions and enquiry about any product/services provided by company at anytime and anywhere from globe. Consumer can purchase any product in day or night using Internet connections and computer at single click of mouse.
4) More Choices :
Online businesses provide their consumers more choices of purchasing. Before purchasing any product, consumer can study products and their features of all major brands.
5) Quicker Delivery :
E-Commerce offers consumer more options and provides quicker delivery of products and services. Some e-commerce company provides free home delivery service to their consumers.
6) Relevant Information :
E-commerce provides relevant and detailed information about products and services within seconds to its consumers. Consumer can compare products and their prices in easy manner.
B) Advantages to Businesses :
1) Low Barriers to Entries :
In today's world, small and large firms have opportunities to start up and conduct business on the Internet. Firms entry cost to the Internet is minuscule (Very small) because they do not need the space for rent. All the business over Internet are virtual means that there is no need of large number of employees to conduct business.
3) Low-Cost Advertising :
Internet provides low cost advertisement as compared to advertisement on newspapers or television. In today's world, Internet has become inexpensive advertising medium used by firms for commerce. The different methods of advertising are : e-mail, banners, pop-ups, steaming video and audio etc.
4) Strategic Benefit :
E-commerce enabled business have many strategic benefits because they :
a) Reduces cost of mail preparation, document preparation and data entry.
c) Lowers cost of calling over telephone.
d) Lowers delivery time and labour costs.
e) Lowers data entry and management expenses.
5) Global Reach :
E-commerce enabled business has ability to reach globally at low cost. They are able send messages world-wide at any time. Since online businesses are globally accessed so e-commerce helps to attract new consumers and business clients from anywhere in the world.
Disadvantages of E-Commerce
The disadvantages/limitations of e-commerce can be divided into two categories :
A) Technical Disadvantages —
1) Lack of Security :
Consumer needs to be confident and trust over e-commerce payment providers. Any fraud, hacking or forgery can break the trust of consumer.
2) Low Bandwidth :
In many countries, network might cause an issue because of low bandwidth.
3) Difficulty in Integrating E-Commerce :
It is difficult to integrate e-commerce software or website with the some existing applications and databases. Vendors need special web servers to, deal with integration problem in addition to network servers.
4) Not All Customers have Access to Internet :
Internet access is not universally available so much of the effort made does not actually reach the consumer. Many potential customers that are living in remote villages have not Internet access facility.
B) Non-Technical Disadvantages —
1) Initial Cost :
The initial cost to develop e-commerce web site in-house is very high. This may need high cost of hiring qualified staff to maintain and updating e-commerce web site. There are also companies have opportunities for outsourcing e-commerce to other e-commerce companies. But where and how to do outsourcing is a difficult task.
2) Security and Privacy :
The major issues in online businesses are security and privacy. Customers feel hesitant to disclose credit card numbers over Internet because of security problems such as theft of credit card number. If consumers do not have any confidence on the online business, they will refuse to purchase anything over the Internet.
Face-to-face contact and paper transactions are important in business deals and transactions since it is related to trust. So for any consumer switching from physical to online stores is difficult.
4) Lack of Touch and Feel :
Consumers may want to touch and feel a product before purchasing online. Online businesses do, not provide the touch and feel experience to consumer on items such as clothes, shoes etc.
5) Customers Relation Problems :
Organisation needs loyal customers to run their online business for long time. Online businesses cannot continue without loyal customers in today's competition.
6) Corporate Vulnerability :
Online businesses have high availability of information related to product, price, catalogs, and others. This information makes web sites vulnerable to access by competition. This process of extracting business intelligence from competitor's web pages is called Web farming.
7) Legal Issues :
When buyers and sellers do not know each other, there is, chance'of fraud over the Internet. Hence there are many legal problems related to e-commerce. Some common legal issues encountered in e commerce are :
b) Credit Card-Fraud and Stolen Identities
c) Illegal Bargains and Criminal Law
Alternative E-Commerce Strategies
1) Brick and Mortar :
The phrase «brick and mortar' means a physical or tangible asset.
For example, a building, plant, storage facility, production unit, etc. Brick and mortar is one of the traditional business models which involve the use of websites just for the purpose of using it as company's brochure. Websites here serve as a means for providing information about the company. Such companies use the traditional sales methods for generating profits. However, if the company gets a favorable market feedback, then these companies can expand further into 'brick and click' companies adding to their online presence.
2) Pure Click :
Unlike brick and mortar companies, pure click companies have pure online presence. Their entire marketing transaction is undertaken online. These companies are popularly known as 'pure-plays' or 'dotcoms'. The various elements associated with the 'pure click' companies are Internet Service Providers (ISPs), commercial sites, content sites, transaction sites, enabler sites, search engines, etc. Some of the popular search engines used by pure click companies are Google, yahoo, Sify, Alta Vista, etc. These search engines also offer various services like free mailing, news, weather reports, entertainment, etc., on company's website. Major examples of 'pure click' companies are Flipkart, Amazon, EBay, India times etc.
3) Brick and Click :
Companies that fall under the category of brick and click' model have both online and offline presence. This means that their marketing and transactional activities are carried on both online as well as offline mode. They need to manage their online and offline activities and should ensure that their online sales do not affect their traditional (offline) sales. They also need to manage their channel conflicts which may arise among their intermediaries and conflicts arising in online sales. Some of the companies like Avon and Compaq launched their online sales models in such a way that it actually supported their traditional offline sales instead of disrupting it. Similarly, one of the popular store Wal-Mart introduced its subsidiary firm in January, 2000 namely Walmart.com which helped customer to access its services online offering more than a million products on internet. This retailing firm involves use of web-based technology as well as standardized retailing strategies for attracting customers.
TOP TREADING ARTICLE FOR COMMERCE STUDENTS :
Ecommerce trends and statistics
The third quarter of 2022 saw over $265 billion in U.S. retail ecommerce sales—three percent growth from the second quarter of 2022.
Holiday sales
In 2022, Amazon had its biggest holiday shopping weekend ever. Between Thanksgiving and Cyber Monday, shoppers worldwide spent over $1 billion buying from U.S. small businesses that have chosen Amazon as an ecommerce solution.
Amazon statistics
In 2021, existing brands selling on Amazon saw over 25% growth in sales. More than 100,000 new brands joined Amazon in the U.S. during the same timeframe.
Prime Day
Prime Day 2021 was the biggest two-day period ever for sellers on Amazon. Additionally, during the two-week lead-up to Prime Day, customers spent over $1.9 billion on more than 70 million items, which was more than a 100% year-over-year increase on sales compared to the Prime Day 2020 promotion.